How Do Automation and Self-Service Improve Customer Support ROI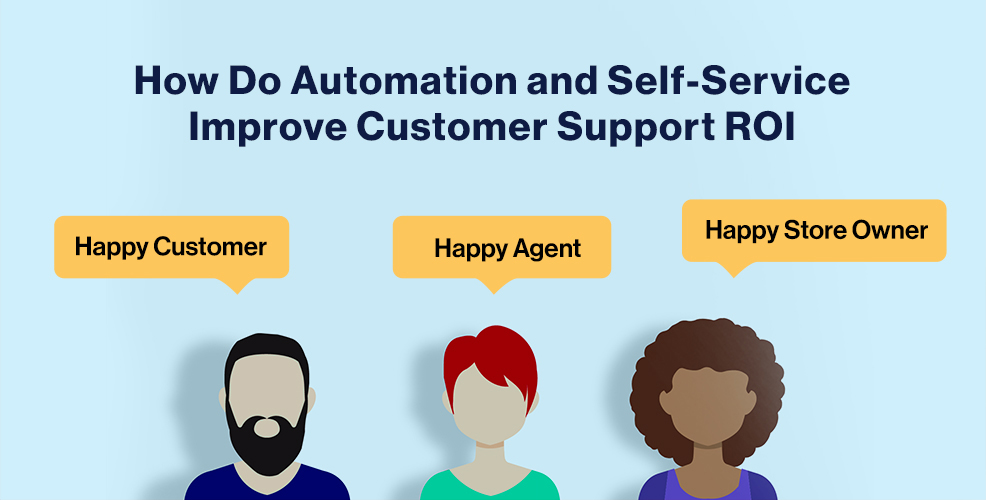 Your customer support center can be converted into a profit center.
Yes, you heard the statement right!
The investment in customer service is often considered the place where companies can cut corners. However, customer service is one of the most important parts of your business as it helps in customer retention and increases brand loyalty.
Many e-commerce companies associate increasing sales with having a great website, recommending personalized products, providing attractive offers, etc.
However, some customers still hesitate to purchase.
When you look deep into it, it is because of any of four reasons listed below:
a. They don't need your product
b. They are busy
c. They can't afford
d. They don't trust you
Although you can do much about the first two reasons, if you deliver excellent customer service, you can increase the trust factor and convert more customers. Also, with excellent customer service, you can highlight the value you are offering and even convert customers who feel your product is pricey.
Hence, delivering excellent customer service will help your business grow. However, spending the right amount of money on customer service will help you make more revenue.
In this blog, you will essentially learn how to improve the ROI of customer service by implementing self-service and automation.
Let's get started.
The Need For Self-Service
We live in a time where AI and automation have become part of our daily lives. Knowingly or unknowingly, 63% of people are already using AI-based technologies.
People automate tasks such as play some music, switch on the air conditioner, turn off lights, etc. using voice assistants. The future is clearly going towards automation and it is time e-commerce companies start adopting them in their business, particularly in customer service.

Did you know 69% of customers prefer self-service to resolve an issue rather than speaking to an agent?
69% of customers prefer self-service to resolve an issue rather than speaking to an agent.
According to Gartner, "Customer self-service and support is a mix of customer-initiated interaction technologies that are designed to enable customers to serve themselves. It includes chat and knowledge bases."
Customers are already aware and perhaps frequently use self-service platforms to resolve their problems.
One of the well-known examples is Amazon's customer service dashboard. Customers can view their orders, track shipments, manage exchanges and returns, edit addresses, edit payment options, view previously purchased products, etc. by simply logging into their account. They will get to speak to the agent only if the request is complex.
Amazon is still at the top of the e-commerce game because it makes customer experience fast, simple, and clear. It's time SME e-commerce companies adopt such methods.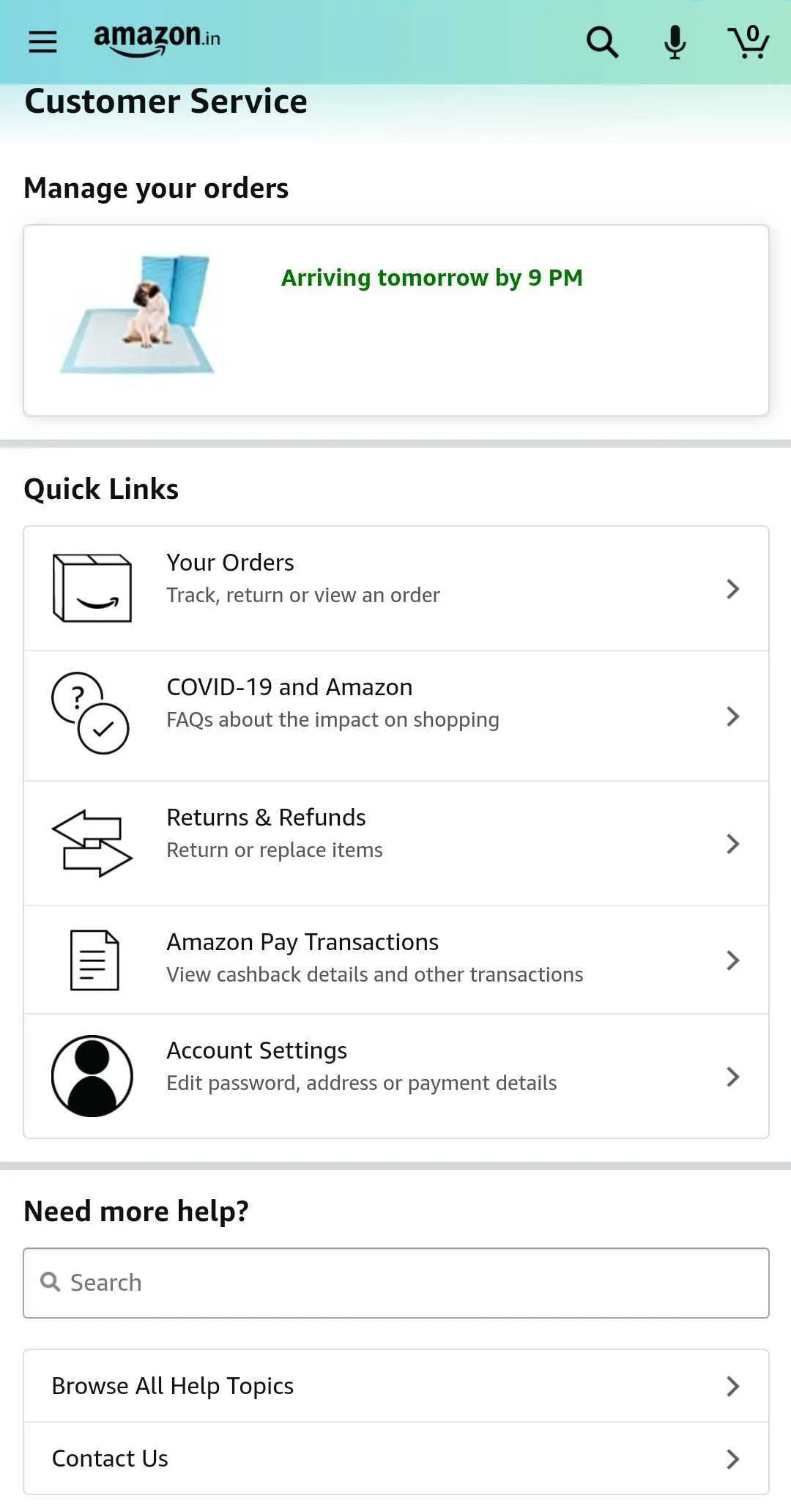 Questions To Automate In Customer Support
To deliver a faster and superior experience for customers, you need to automate customer support.
Let's look at the list of things you can automate in customer support.
1. Order Tracking
Your customers made the payment and awaiting delivery. At that moment, they will express inhibitions. They want to know whether the item is packed, shipped, and successfully delivered.
To ensure your customers are receiving the right information about the order status, it is better to automate answers to the questions instantly. Else, they will have to phone or email your support agents and get the update.
The bad news is that it creates a frustrating experience for customers and makes them tough to deal with your company.
Further, your support agents should also take every customer call or respond to each message. Their job becomes monotonous and uninteresting. On top of that, you are not making them work more efficiently.
If you enable self-service in order tracking, you can make your customers get the status of their orders in a single step by sharing their phone number or email address.
For example, with the RoundView self-service platform, all your customers need to do is:
Go to your website →
Open the chat widget on the home screen →
Click the track orders button →
Enter their registered number or email address →
Open the account dashboard and view their order status instantly.
The process is as simple as it sounds.
You will free your customers from waiting for a response from the agents and also remove their inhibitions.
To learn more about automating order status, check this page.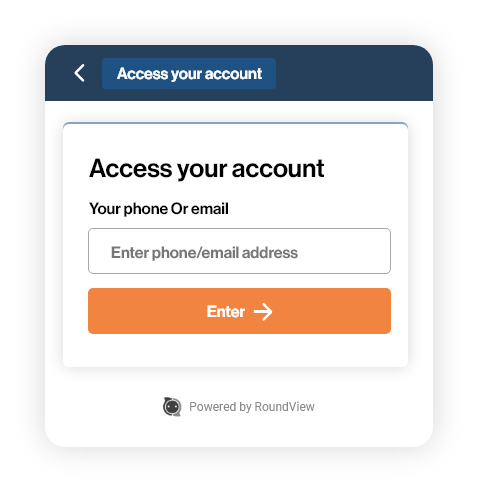 2. Returns and Exchanges
Using self-service platforms you can allow your customers to return or exchange items with ease.
All you have to do is create workflows and allow your customers to choose a reason to return or exchange an item.
For example, a customer can choose the reason for the exchange such as:
Product is damaged
Size doesn't fit
I'm not satisfied with the quality
Wrong item was sent, and so on
This enables the companies to know the reason for return/exchange and offer a better experience for the customers. Further, if the issue is complex, you can route the question to the concerned department and make your customers get the resolution quickly.
Creating an easy returns experience, without spending too much time, and not speaking to an agent will make customers get a perception that you trust and care for them more.
They will make repeat purchases with your brand in the confidence that they can easily return the product if they are not satisfied with it and also gets a guarantee that their money is safe.
To learn more about automating returns and exchanges, check this page.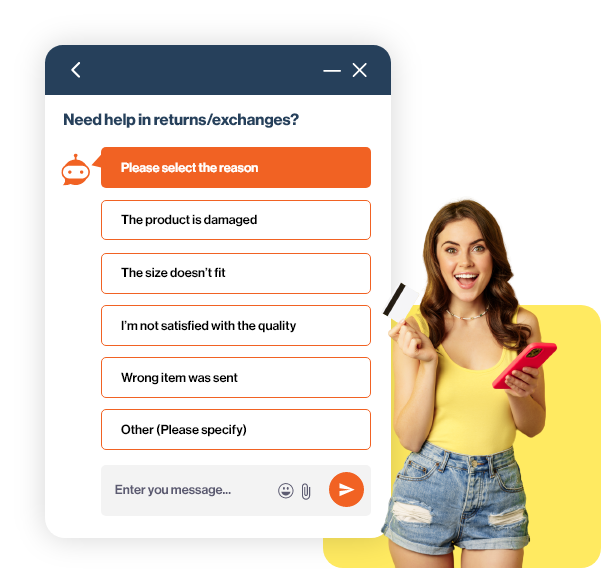 3. Agent Routing
Agent routing is not just routing the customer questions to the support agents. It is more of routing the question to the right department and to the right agent to provide faster resolution and make the best use of the agent's time.
For example, if a customer has a product-related question, a salesperson can answer it better. Similarly, if a customer has an order-related question, a support agent can provide a quick response.
A self-service helpdesk with an agent routing feature will help route the customer questions precisely.
The advantages are several:
It reduces customer waiting time
Make support agents resolve the issue quickly
Reduces bulk tickets on a single agent
Increases support team's productivity and efficiency
Improves customer satisfaction rate
Advanced customer service helpdesk like RoundView goes further in routing the customer questions.
Imagine a situation where the customer question is sent to the wrong representative, with RoundView, the admin can easily reassign to the right agent with a click of a button. Further, the agent can also reassign the question to another agent!
If you like to learn more about live chat and agent routing, go here.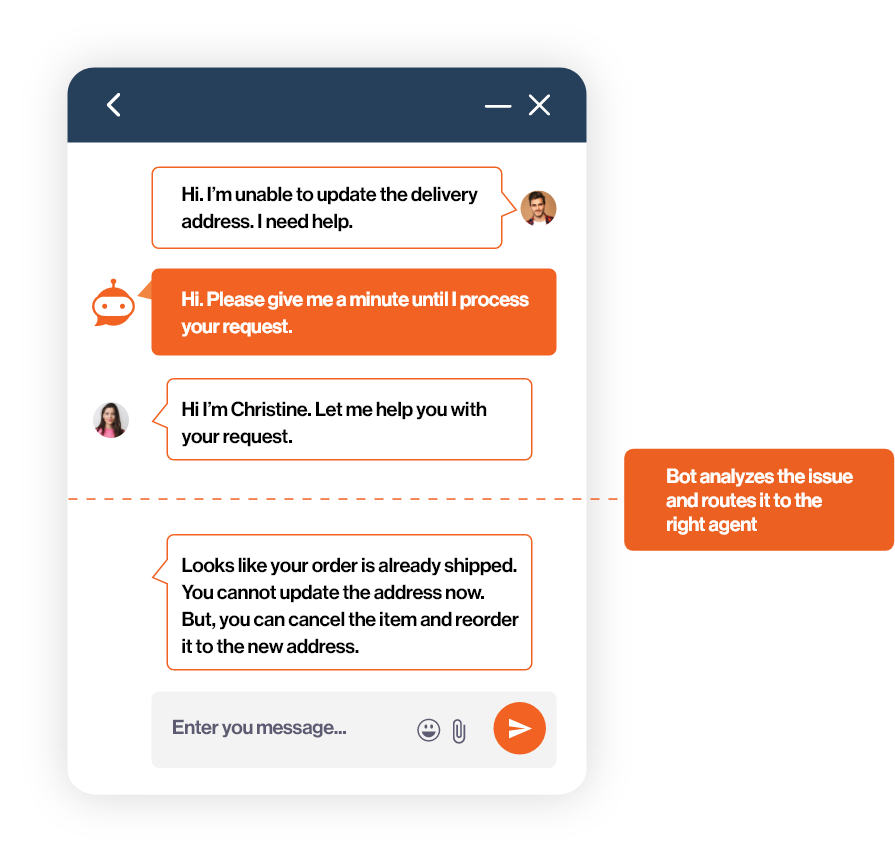 4. Omnichannel Management
E-commerce companies are offering multiple channels such as phone, email, chat, social media, WhatsApp, etc. for customers to have their questions answered.
Although this method adds convenience to customers, it is practically difficult to manage all messages.
Some of the problems companies face are:
Customers sending multiple messages on the same issue in different channels
Agents not knowing who is answering the questions
Sometimes, two agents will be answering the same question and it hinders their productivity
To solve this problem, it is advisable to get an all-in-one inbox where agents can manage all customer conversations in one place.
They get to see whether the ticket is opened or closed.
Who is responsible for resolving the issue?
Who is answering the customer's question currently?
What are the customer's earlier questions?
Customer's previous orders, location, life-time-value, etc.
In simple words, all-in-one-inbox offers a 360° view of customers and enables the support agents to answer customer questions faster and better.
If you like to learn more about omnichannel management, check this page.
Benefits of Self-Service and Automation
One of the primary reasons why you should automate customer service is that it increases your customer service ROI
For instance, self-service and automation help you to:
Limit hiring more agents
Manage multiple customer service channels easily
Make teams work more efficiently
Increase customer happiness score
Plan your business investments better
37% of IT leaders say that their customer service departments are seeing higher ROI from automation than any other department.
However, few companies are still hesitant to do it because,
They do not have a vision or strategy for automation
They faced technical challenges with the recent automation setup
They are worried about the implementation costs
There is resistance among employees
They are afraid of not having a human touch
However, if you are planning to grow your business to a greater level, having human resources for all processes is not a scalable business model. You need to automate things and enable self-service.
And, believe it or not, customers do not prefer manual work and as mentioned earlier they choose self-service rather than talking to an agent.
Conclusion
Customer service can make or break your business.
If you delight your customers with super-fast service and resolve their problems quickly, you can improve the customer satisfaction rate.
In simple terms, you make your customers happy and happy customers are the more loyal customers.
RoundView helpdesk is built to enable self-service and automation in customer support. It increases the customer support ROI by 15x.
See how it works for you.