Why Chatbots Are Better Bet Than Browse Abandonment Emails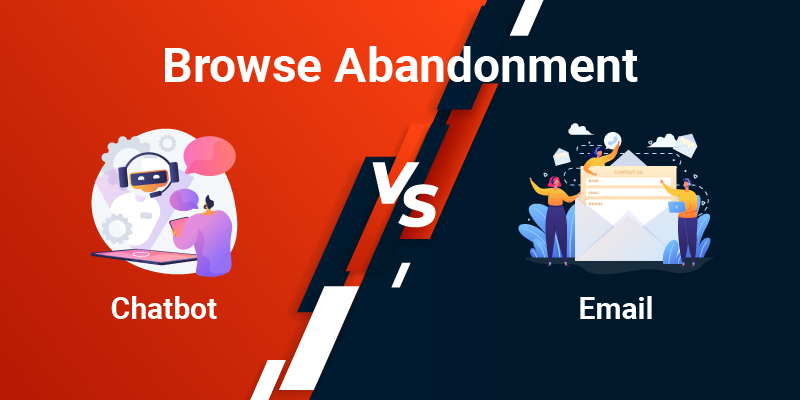 Many talked about e-commerce cart abandonment but browse abandonment is a different problem and it impacts conversion rates highly. Let us get into the browse abandonment situation straight away and learn how to overcome it.
In the early stages of the buying cycle, there are three types of customers who visit your website.
1. The ones who are having a problem and looking for a solution. They begin their journey mostly in search engines and arrive at your website to check out your offerings.
2. The ones who know who you are and what you are offering but parallelly comparing/evaluating you with your competitors.
3. The casual shoppers come to your site just to check out what's new or to learn about the ongoing offers.
The above-mentioned types of customers are the ones who contribute to the browse abandonment scenario.
Now the question is, why it is important to address it.
Studies show that about 42% of revenue comes from running browse abandonment campaigns.
That's quite a lot of money you are losing if you don't implement browse abandonment recovery strategies.
Let's look at how you can do it.
What is Browse Abandonment?
Conceptually, browse abandonment is a situation where customers browse your site and leave after a few minutes without making any purchases. Customers who are in the top-of-the-funnel, indecisive buyers, window shoppers, and comparison shoppers are the ones who contribute to the browse abandonment situation.
Impact of Browse Abandonment on Conversions
Nearly 85% of first-time e-commerce shoppers don't add items to the cart. This means, 8 out of 10 customers are leaving your site without converting. Browse abandonment is one of the key reasons for the average eCommerce conversion rate which is still at 2.86%. As mentioned before, by running strategic browse abandonment campaigns companies witnessed more conversions and revenue.
Browse Abandonment vs. Cart Abandonment
Many confuse browse abandonment with shopping cart abandonment. Both are actually highly different scenarios. Cart abandonment happens when customers add item or items to the cart and leave the site without completing the transaction. There are many reasons for shopping cart abandonment such as complex checkout processes, high shipping costs, hidden prices that get revealed at the time of checkouts, limited payment methods, and so on. Whereas, browse abandonment is a scenario where customers leave the site without adding items to the cart. Nevertheless, cart abandonment is equally a major pain point for e-commerce companies because the average cart abandonment rate across industries (between 2006-2019) stands at 69.57%.
If you are facing high cart abandonment rates, we suggest you read our eBook titled "200 Unique Tips To Reduce Shopping Cart Abandonment". We have given a massive 200 end-to-end tips to reduce the cart abandonment rate.
Browse Abandonment Email Disadvantages
When it comes to reducing browse abandonment, companies focus on running retargeting campaigns. Retargeting simply means that you are trying to engage customers outside of your site via channels such as emails, SMS, display ads, social media, and so on. However, it comes with certain disadvantages.
1. Retargeting is becoming an overused marketing strategy today and it is difficult to cut thru the noise.
2. It is expensive, especially with high-ranking keywords.
3. Despite spending a lot of dollars on ads, the average click-through rate for retargeted ads is only 0.7%. It means out of 100 customers less than 1 customer is clicking it.
4. Browse abandonment email campaigns are practiced by few companies but customers show less interest in that when compared to cart abandonment emails. Studies have shown that only 4% of browse abandonment campaign emails are opened or converted. The primary reason is brands could not personalize browse abandonment emails due to the lack of sufficient data on the customers.
5. Only 0.59% of customers purchase from the retargeting ads run on social media.
Above all, to successfully run a retargeting browse abandonment email campaign, you need to have your customer's valid email id, or they should have created an account with you or should be an existing customer. However, the customers who are part of the browse abandonment scenario often don't share their contact information as they are still undecided. Hence the right way to convert them is to engage them with a personalized experience in real-time and persuade them to convert.
How AI chatbots help reduce browse abandonment rate
When it comes to online shopping, customers convert/make purchases on your website. All the action takes place there. So logically, all your conversion optimization techniques should be focused on converting your customers right while they are browsing. That's why we recommend you to implement effective solutions that persuade customers to convert on-site than running retargeting browse abandonment emails or ad campaigns.
However, there is a problem. Almost 90% of e-commerce websites are designed in a conventional way using a lot of texts, images, links, etc. and it is a time-consuming process for the customers to go through each one of them to understand whether it will solve their needs or not.
The barriers in a content-heavy, conventional website are:
1. Visitors soon disengage
2. Visitors encounter analysis paralysis
3. Visitors get distracted
Although some websites use exit pop-ups and widgets to engage visitors, nothing can match the opportunities and results provided by conversational AI chatbots.

Conversational AI Chatbot is programmed with NLP (Natural Language Processing) and ML (Machine Learning) technologies to carry out human-like conversations with your website visitors, learn their needs, and show personalized product recommendations to engage them better and convert faster.
The secret for reducing browse abandonment is to "show personalized product recommendations in real-time." Because…
56% of customers expect to find what they're looking for from a company in 3 clicks or less.
49% of buyers have made impulse purchases after receiving a more personalized experience.
38% of respondents said they would like to interact more with chatbots that offer "deals, coupons, and promotions."
The AI-powered chatbot is the right solution to overcome browse abandonment than browse abandonment emails and ads because,
1. It is available 24/7 and works even during your non-business hours.
2. It helps to implement guided selling into your website.
3. Its machine learning capabilities actively learn your visitor's demographics and behaviors to personalize the experience.
4. It answers all your visitor's questions without getting stuck and gets their trust.
5. It can notify about an ongoing sale, offers, deals, etc.
6. It can collect your visitor's email IDs subtly and route them to your CRM.
7. Above all, it transforms your website into a conversational platform rather than a conventional one and makes your e-commerce store more futuristic.
Here's an example of how AI chatbot engages customers with personalized experiences and reduces browse abandonment: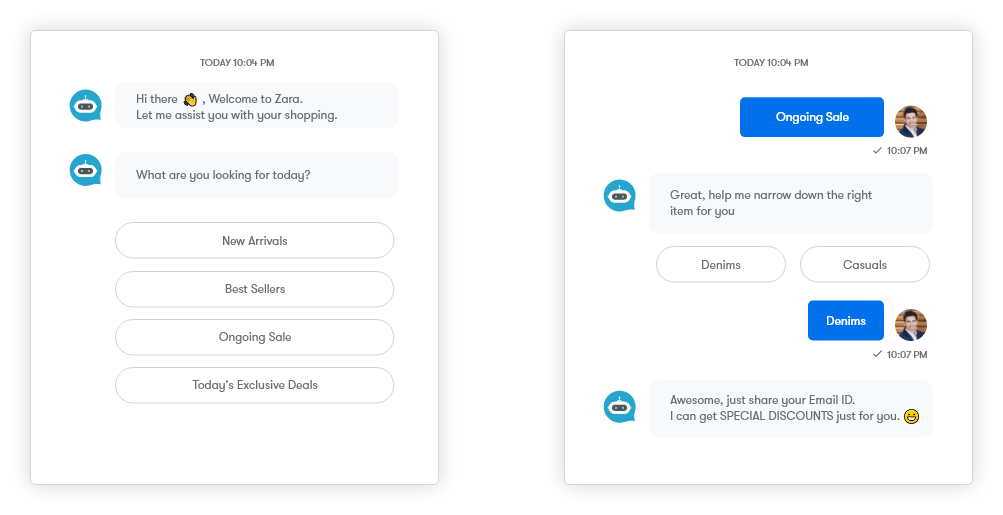 To sum up,
All efforts you make to drive traffic becomes purposeless if you were not able to convert visitors into paying customers.
And, since conversion is the ultimate goal and the most challenging aspect of every business, it is wise to invest in the right technologies that help in that process from the start to finish.
We built the RoundView conversation acceleration platform with one primary goal – to increase the conversion rates of e-commerce websites. Our AI chatbots are one of the principal applications of the conversation acceleration platform.
Schedule a demo with us to see our AI chatbot's amazing capabilities.
The insights you get in our 10-minute demo can make you understand how RoundView help solve the browse abandonment problem.
P.S. Like this article? Then subscribe to our newsletter to receive more insights like this!