How To Increase Ecommerce Conversions – Complete Blueprint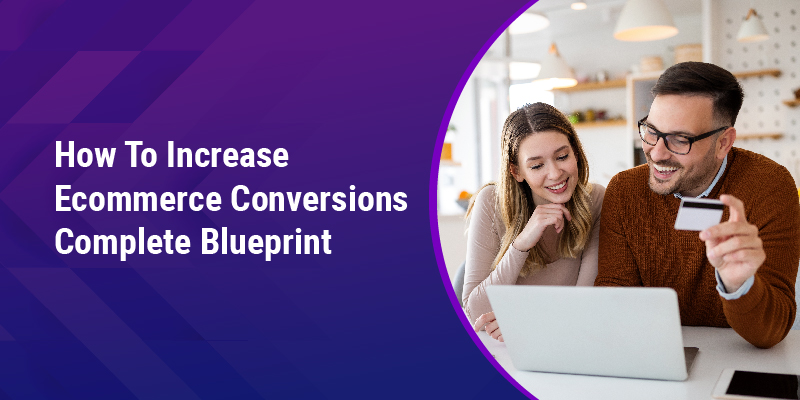 How do I increase my eCommerce conversion rate?
Well, it is not just your question. It is a global question.
Let's tell you a quick stat.
Did you know how many eCommerce websites exist worldwide?
12-24 million.
And your eCommerce site is just one little thing in that.
Evidently, you have a huge battle to fight.
So, to increase your eCommerce sales and conversion rates, you need to walk few extra miles, invest in the latest and greatest of technologies, and deliver a phenomenal customer experience from the moment your visitors land on your website and throughout your customers' lifecycle.
How do you do it?
Although many have said a lot of ways to do it, we simply recommend you to adopt the strategies followed by great brands such as Amazon, Apple, Netflix, and others in the Forbes list.
Implement the following strategies:
1. Conversational Commerce – Make two-way, real-time conversations with your customers to learn their needs.
2. Personalization – Customize the experience based on every individual's needs.
3. Rich Customer Experience – Offer rich customer experiences that delight your customers throughout their journey and make them your brand loyalists.
You may ask
How can I do things that they do on my eCommerce site?
Will it be expensive?
I'm already trying out a few things, how different will the new solutions be?
Most importantly, will it work for me?
All your questions are answered in the below eBook ?
Conversational AI Chatbots have the ability to make human-like interactions with your website visitors, ask them the right questions, learn their needs, and show personalized product recommendations that influence them to purchase. Further, it acts as a 24/7 shopping assistant that helps your customers from the start till the end and delivers an amazing customer experience.
To learn more about conversational AI chatbots and how it boosts eCommerce sales, check out this article – 12 Big Ways Conversational Chatbot Boost Ecommerce Sales
We built the RoundView conversation acceleration platform with one primary goal – to increase the conversion rates of eCommerce websites. Our AI chatbots are one of the principal applications of the conversation acceleration platform that is powered by a strong personalization engine.
Schedule a demo with us to witness its amazing capabilities.
The insights you get in our 10-minute demo can make you understand how RoundView chatbots help personalize your eCommerce experience with ease.
P.S. Like this article? Then subscribe to our newsletter to receive more insights like this!