12 Big Ways Conversational Chatbot Boost E-commerce Sales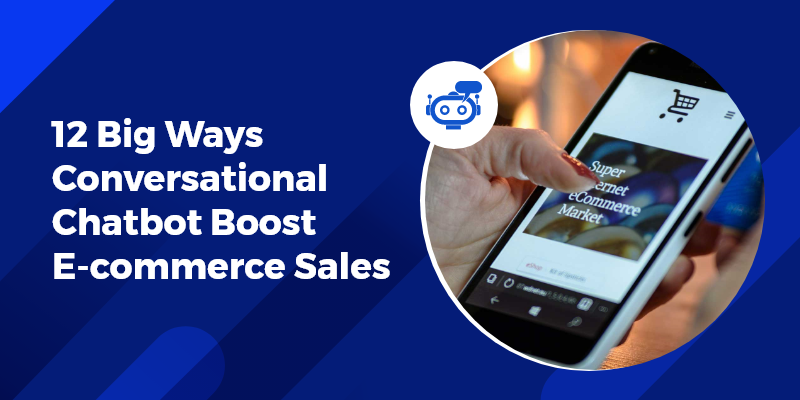 In 2015, the worldwide e-commerce sales was 1.5 trillion US dollars. In 2021, e-commerce sales rose to 4.5 trillion US dollars. That's a 200% increase!
With today's customers' fast-changing buying pattern, studies figured that, by 2040, almost 95% of purchases will be made online.
E-commerce store provides several benefits for the buyers:
Buy from anywhere, anytime
Read every detail about the product
See pictures and videos of the product
Check out reviews and ratings
Flexible payment options
Get products delivered to the doorstep
The ease of shopping is the crucial reason why customers prefer online shopping and with the travel restrictions imposed by governments due to Covid-19, buyers prefer online shopping, and since it is becoming more convenient for them, it will be practiced post-pandemic too.
However, despite all this, the average conversion rate of e-commerce websites is 2.86% meaning that there is a lot that needs to be done to increase customer engagement in the e-commerce sites that conversational chatbots can deliver.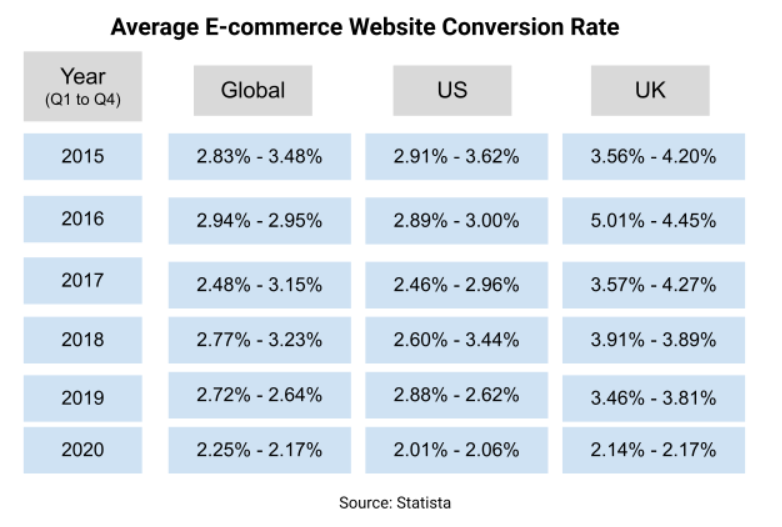 Even in a well-designed and high-performing website, the conversion rate does not exceed 4%. Hence, the problem lies within the site, within the buyer's journey and the three top reasons for low E-commerce conversion rates are: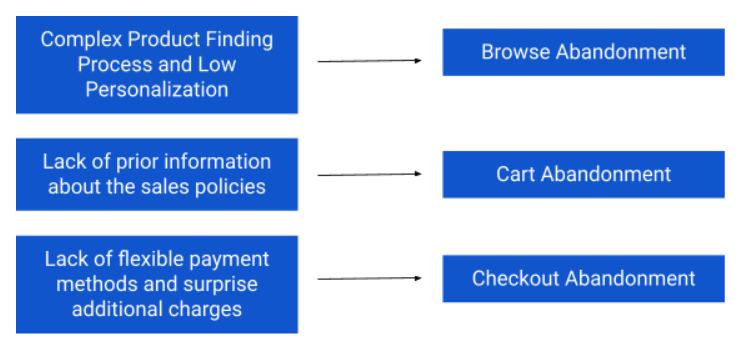 Let us look at how conversational chatbots specifically built for e-commerce sites can help address the above-mentioned problems.
I. What is a Conversational Chatbot?

Conversational chatbot is an AI powered virtual assistant deployed on websites to provide human-like conversations with your customers who are looking for answers
Conversation is a human thing. With the growing number of chat conversations in social media and other messaging apps, people are very much dependent on it as it enables instant two-way communication.
Implementing chatbots on websites is the fastest way to talk to your customers, learn their needs, and serve better instantly rather than making them fill a lead form or call the sales team.
A conversational chatbot is an advanced form of a chatbot as it is capable of making human-like conversations, understand the buyer's intent better, solve their needs, and carry out the goals set by you easily.
Conversational chatbot helps in conversational marketing that is proved as an effective way to boost conversions. Learn about conversational marketing here.
II. Difference between Conversational Chatbot and Chatbot
The term "chatbot" simply denotes a bot that works based on pre-defined rules. It is easy to build perhaps freely offered by few providers and it helps answer your customer's basic questions.
It mostly aids in customer support such as order tracking and answering FAQs but does not answer your customer's complex questions, or understand misspelled words, or personalize the experience.
Conversational Chatbot or artificial intelligence chatbot is programmed with NLP (Natural Language Processing) and ML (Machine Learning) technologies and have a better ability to understand your customer's inputs (even if there are typos), carry out 'human-like' conversations with your customers, answer questions, learn their needs, and personalize their experience as it interacts with them.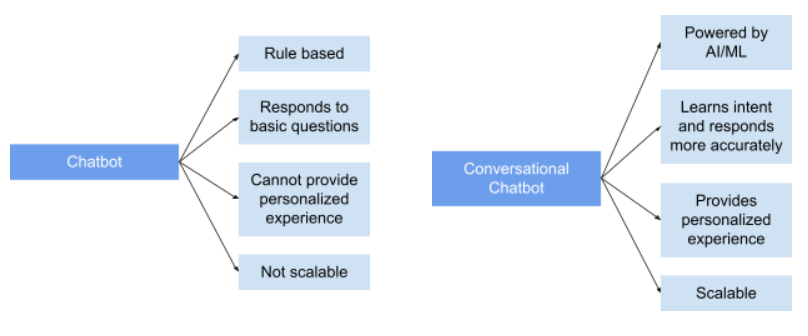 III. Trends Influencing E-commerce Conversion Rate in 2021

2020 was a challenging year but consumers are well adapted to online shopping today. With more companies focusing on online sales, e-commerce will make up 22% of global retail sales in 2023
1. AI (Artificial Intelligence)
Every shopper's need and behavior is different and AI helps in collecting data on where the buyers are from, how they engage with, what they look for in a product, and automate personalized shopping experiences.
2. Real-time Personalization
With the data collected from AI, you can provide real-time personalized product recommendations for your customers. Personalization engages customers better, makes them feel special, performs upsells and cross-sells, and converts them faster.
3. Conversational Chatbots
Conversational chatbots are like your in-house sales reps appointed on your website. AI-powered chatbots ask the right questions, learn the customer's needs, recommend the right products, and help convert faster.
4. Voice Search
With voice assistants being adopted at homes and offices at a rapid pace to complete daily tasks, e-commerce brands that utilize voice-enabled solutions to help customers find the right products can see a significant increase in conversions.
5. End to end shopping assistance
Making the shopping experience easy is the core thing that e-commerce brands should focus on. From product discovery till checkout, provide real-time assistance, answer their questions/objections, and convert them by enabling a meaningful experience
IV. 12 Big Ways Conversational Chatbot Drive E-Commerce Sales
1. 24/7 proactive assistance

Conversational chatbot greets your customers with proactive welcome messages and offers assistance instantly. Further, using the pre-defined buttons, conversational chatbot allows your customers to start the journey quickly.
2. Actively learns customer needs

Every customer has a different need and conversational chatbots leverage its deep learning skills to understand their intent, behavior, needs, and recommend the right product or solution.
3. Helps find the right product fast

E-commerce companies sell a variety of products with vastly different features, specifications, and for different usage. Conversational chatbots can help customers locate the right product fast by asking the relevant questions and saves their time and effort.
4. Personalizes the shopping experience

With the data gathered through the real-time conversations and also analyzing the past interactions, conversational chatbots personalize the experience for buyers by recommending the right products and help them move down the funnel faster.
5. Assists while browsing

Conversational chatbots assist customers while they are browsing your site such as making them read a success story/customer reviews, download an ebook, inform about the upcoming events, promote the special sale, offers, or coupons, and influence them to add the particular item to the cart.
6. Assists during checkout

There can be instances where your customers add items to the cart but abandon them after the payment process is initiated. It is known as checkout abandonment and there are multiple reasons for this such as hidden charges, limited payment options, and more. Conversational chatbots assist customers at the time of checkout by answering their questions/troubles and help them finish the transaction.
7. Recovers abandoned carts

Cart abandonment is the biggest concern for all e-commerce companies and many brands send automated emails, text messages and use other strategies to recover abandoned carts. Conversational chatbot helps recover carts while the customers are on the site by answering their concerns or questions in real-time.
8. Performs upsell and cross-sell activities

Upsell, cross-sell, and subscription renewals bring additional revenue for the companies but customers will not opt for it unless they are explained about the real value of it. Conversational chatbots explain to customers the benefits of choosing higher-end products or complimentary products by smoothly stating its value.
9. Easily Book Meetings

If you are running a B2B e-commerce business then the goal of your website is not only limited to conversion but also to book meetings. Conversational chatbots have the potential to collect key contact details of prospects like email ids and phone numbers and provide the convenience of booking meetings with sales reps for quotes, pre-order, etc. with just a click of a button.
10. Automates customers common questions

There are questions that your customers might commonly ask about the product or service. Conversational chatbots help customers get answers to their common questions fast and easily by sharing a link, image, or video. It saves their time and also reduces the burden on the support teams.
11. Collects customer feedback

For a business to grow, they need to consistently collect feedback from the customers. While collecting feedback is a manual and time-consuming process, conversational chatbots can trigger the feedback collection process while it is interacting with your customers.
12. Measure and enhance

Conversational chatbots can collect several details from your customers such as where they are from, buying preferences, what they liked about the product, customers engagement time, the moment customers closed the session, and more. E-commerce companies can leverage these insights to enhance the customer experience and take the business in the right direction.
V. Important Things to Consider Before Building Conversational Chatbots
Before building a conversational chatbot for your e-commerce site, you need to consider three things.
Set the goal: Decide on the goal of your conversational chatbot. Goals can be to drive more sales, generate more leads, convert free subscribers into paid customers, or increase revenue through upsells and cross-sells.
Choose your bot's personality: Your chatbot's personality is very crucial to engage your customers. Building it too straightforward can make the customer feel the interaction is boring or making it very friendly can annoy them. Choose the personality type that best suits your brand image or the product you are selling.
Create the right flow: Creating the right conversation flow is the difficult part of the bot creation process. You need to have the entire customer journey prepared beforehand and map it well to help customers receive a smooth experience. With conversational chatbots, you can add keywords and combinations of words to make it provide the right answer for your customers even if they misspell the words.
VI. Closing Thoughts
Driving low conversions from e-commerce sites is a common problem for all e-commerce businesses. However, to increase it, you need to understand your customers better.
Are you offering what they are looking for? Are you answering their questions and objections? Are you helping undecided buyers to purchase? Are you stating the real value of your products for price-sensitive buyers?
Conversational chatbots enable you to understand your customers better by striking two-way contextual conversations and activate them to convert. The previously mentioned scenarios are good examples of that.
It is impossible to put everything in the form of content on your website and ask your customers to go through everything before purchasing a product. That is why we recommend you implement conversational chatbots to ease the shopping experience.
We built RoundView conversational chatbot with one primary goal – to improve conversion rates of e-commerce websites.
The insights you get in our 10 min demo can help you take your e-commerce business to a new level. Get started right away.