How To Reduce Ecommerce Cart Abandonment Rate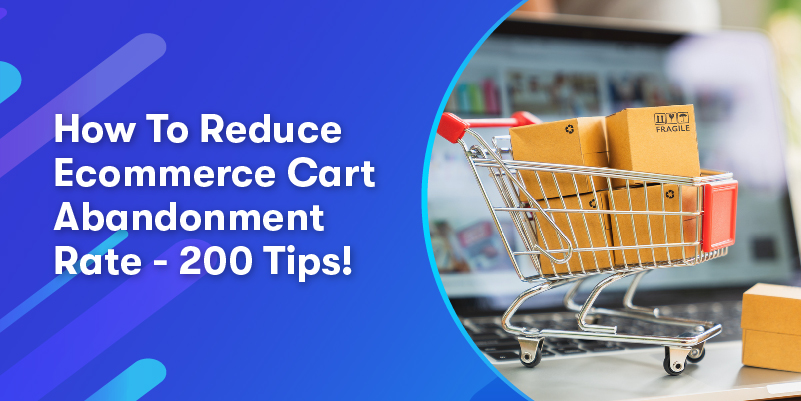 Cart abandonment is a much bigger problem than you think. Amazon, Apple, Walmart, and every other large-scale to small-scale eCommerce company is facing this problem and it directly affects the conversion rates.
Let's look at how to reduce the cart abandonment rate.
What is eCommerce cart abandonment?
In online shopping, cart abandonment is a situation when a customer adds an item or items to the website's shopping cart but leaves the site before finishing the transaction.
How cart abandonment came into existence?
Cart abandonment scenario is very pertinent to online shopping. In a brick-and-mortar store situation, customers rarely abandon the cart at the time of the checkouts but it is quite a common practice in online shopping.
How cart abandonment impacts the conversion rate?
Based on 41 different studies collected by the Baymard Institute, the average cart abandonment rate across industries stands at 69.57%. It means 3 out of 5 customers abandon carts. Forrester Research also figured that eCommerce brands lose as much as $18 Billion in yearly sales revenue due to cart abandonment.
Reasons for high cart abandonment rate
Upon examining the cart page, conducting qualitative research, and taking customer surveys, the following are the common reasons behind cart abandonment.
Complex checkout process
Hidden prices that get revealed at the time of checkouts
High taxes or high shipping charges
Lengthy registration process or no option for guest check out
Limited payment methods
Sudden decision to purchase from a brick and mortar store than online
Using cart to check out the final price and comparing with the competitors
The decision to wait for a lower or sale price
Privacy and security concerns
Concerns over product quality or safe delivery
Difference in the product's description on the cart page versus the product page
Poor cart page design
Long delivery time
Searching for coupon codes
Website errors
The reasons for cart abandonment can go further based on different factors. However, studies have shown that high extra cost is the no.1 reason for cart abandonment followed by forced account creation and complex checkout processes.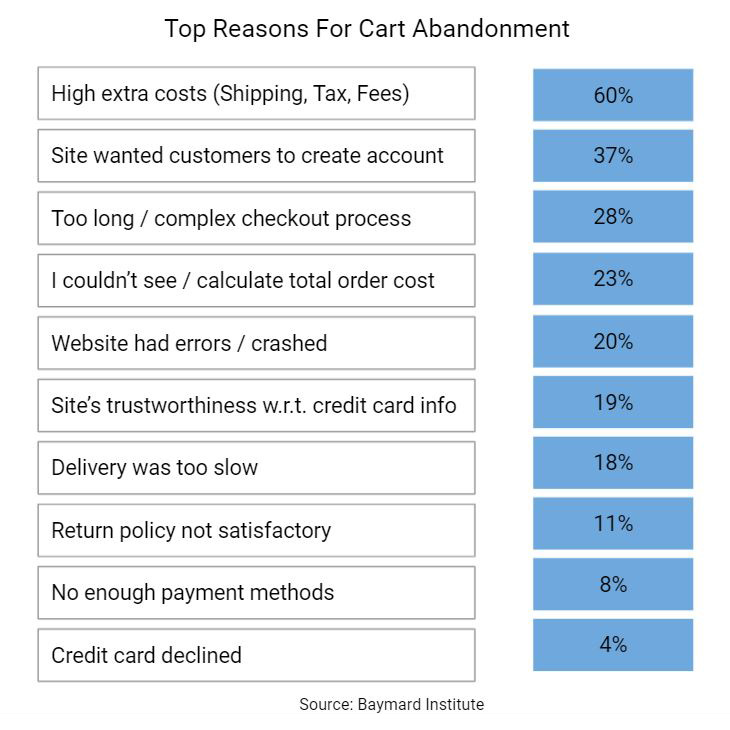 200 Proven Tips to Reduce Cart Abandonment
In order to help you understand the cart recovering tips easily, we have divided them into six broad segments.
1. Tips to convince your customer's rational mind
2. Tips to convince your customers emotionally
3. Tips to create an amazing cart page experience
4. Tips to optimize your cart page for better performance
5. Tips to recover abandoned carts using retargeting campaigns
To learn all the tips, download our exclusive eBook,
In this eBook, you will discover a bulk of tips and tactics to reduce cart abandonment rates both on and off your eCommerce site.
This eBook is the only guide eCommerce shop owners, decision-makers, and marketers will ever need to reduce cart abandonment rates.
To learn more about the RoundView conversational acceleration platform and how it boosts eCommerce sales, schedule a demo with us.
The insights you get in our 10-minute demo can take your eCommerce business in a new direction.
P.S. Like this article? Then subscribe to our newsletter to receive more insights like this!