How to Increase Website Conversion Rate? No.1 Self-Help Guide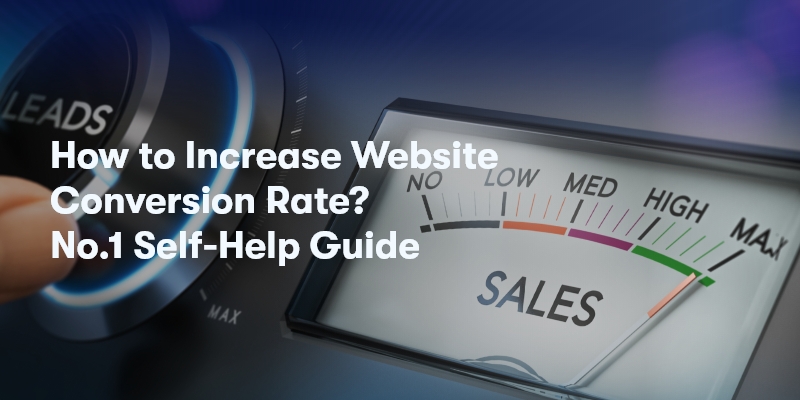 A low conversion rate will put you in a situation you do not want to be in. You begin to question the ability of your team. You lose money. You become answerable to your investors and stakeholders. Your competitors run over you and most importantly, you lose your stand in the business.
But hold on, you are not the only one struggling with conversion. With an industry average of only 3%, website conversion is a daunting task for all companies. In fact, if you hit the 5% conversion mark or above, you are doing a decent job.
Now, the big questions that you always ask yourself are:
How do I generate more quality leads to increase conversion?
Are there any new strategies available to improve conversions?
What top companies are doing currently to improve their conversion rate?
Is there any growth-hacking method available?
Is there any new tech stack available to reduce my pains?
This article will help you answer all of your questions and make you succeed in your business.
For quick maneuver, we are splitting up this blog into three sections.
1. Adopt Next-Gen Lead Generation Methods
2. Target Accounts using Account-Based Marketing Programs
3. Convert through Contextual Conversations
Section 1:
Adopt Next-Gen Lead Generation Methods
Let's discuss the basics first. Some of you might be familiar with the term lead generation, why it is important, and so on. Yet, we are going to explain briefly now just to refresh your memory. It will not take more than 120 seconds.
What is a lead?
A lead is someone who expressed interest in your company, product, or service in some form. He/she is someone who responded to you because of the marketing efforts you made. Leads can be segmented into different categories based on where they are in the buying journey and how they are qualified.
What is lead generation?
Lead generation is the process of attracting and converting your website visitors or target audience into prospects. It is done using different strategies having 'conversion' as the end goal.
Why is lead generation important?
Lead generation will directly impact the growth and profitability of your company. If more leads are generated at a shorter time and at a lower cost, you have a high chance of converting them into paying customers, and correspondingly it will increase revenue for your company.
What are the ways to generate leads?
Companies typically follow inbound marketing and outbound marketing strategies to generate leads.
What is inbound marketing?
Inbound marketing is the process of attracting customers through organic efforts and making them come to your website to understand what you are offering and influence them to act on the CTA (Call-to-action).
What is outbound marketing?
Outbound marketing is the process of reaching your target audience directly through phone, mail, or adverts. It disrupts their workflow and demands their attention.
Inbound marketing vs. outbound marketing. Which is better?
Studies show that inbound marketing strategies generate 54% more leads than traditional outbound practices and it costs 62% less per lead than traditional outbound marketing.
What are the challenges in website conversion?
Generating traffic to your website
Proving the return on the investment
Delivering customized content at each stage of the buyer journey
Aligning sales and marketing teams to work effectively
Finding the right tech stack
What are the best channels for conversion?
*Important: Although 2.35% is the average landing page conversion rate for most of the companies. The top 25% of the sites are converting at 5.31%, and if you look at the top 10% of the top 25% companies, they are converting at 11.45% and above.
Let's discuss attaining that figure in the coming sections.
What companies are currently doing to generate leads?
Blogging frequently
Targeting transactional keywords such as services, solutions, software, platform, and more.
Focus more on on-page SEO
Run PPC and optimize for off-page SEO simultaneously
Increase the quality of the content
Improve the website user experience
What are the emerging trends in lead generation?
Now that you are familiar with some of the important aspects of lead generation, strategies, data, and best practices, we are going to show you some of the growth hacking methods to improve your conversion rate. As mentioned earlier, they are executed by 10% of the top 25% of companies that are converting at 11.45%.
All your organic and paid campaign efforts draw major focus to your landing pages. But many times the bounce rate is high. In fact, the average bounce rate for a website is
61%
Your effort becomes vain when visitors bounce off. But don't worry, you still have a chance. In fact, a better chance.
New-gen lead generation platforms like Website Visitor Tracking Software can help you track website visitors, identify the pages they visited, the content they viewed, and most importantly, using advanced data tracking methods, they can also gather the firmographic data of the organizations that visit your site.
What is Firmographic Data?
Firmographic data is the type of information that you would want to know in an organization. It includes industry type geographic location, size, revenue, tech stack, contact details of key people, number of clients, and so on that can be used to assess whether it is a potential account or not.
By installing a website visitor tracking software on your website, you get all data in a centralized dashboard as represented in the reference picture below.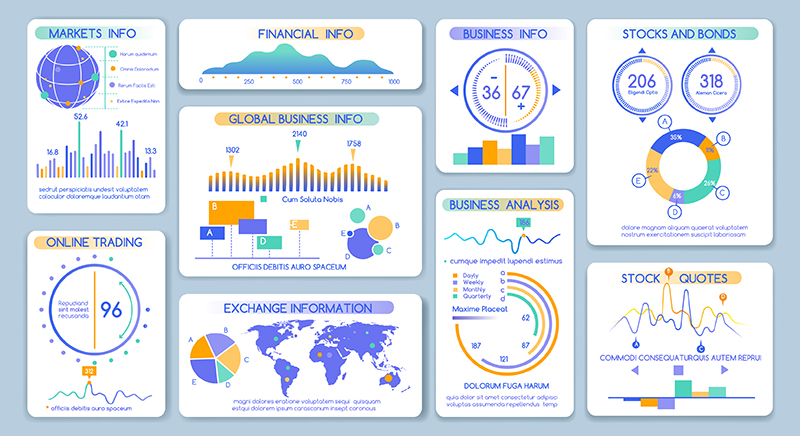 You can take advantage of this data to contact them directly or target them with specific ads or messages when they revisit your website or in social media, PPC, and emails. Engage them with the right message according to their sales funnel and influence them to convert.
How do you do it? Let's take a deep dive into account-based engagement.
Learn 6 Reasons Why Marketers Should Use Website Visitor Tracking Software
Everyone is curious to know who is visiting their website. Website Visitor Tracking Tool reveals it to you along with a whole lot of other benefits
Section 2:
Target Accounts using Account-Based Engagement Program
Some of you might have heard of the term 'Account Based Marketing (ABM).' For those who don't, this is what it means,
What is Account Based Marketing?
Account-based marketing is a highly strategic approach in which companies focus on bringing their marketing and sales team together to nurture key or high-revenue accounts by delivering personalized experiences at scale. In simple terms, each account is treated as its own market.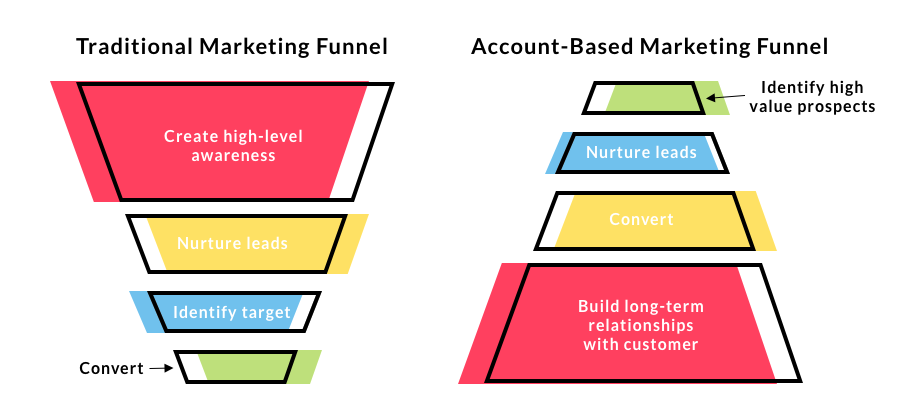 What are the benefits of Account Based Marketing?
Better marketing and sales alignment
Makes you efficiently use your marketing budget
Shortens sales cycle drastically
Delights your customers throughout the journey and increases engagement and conversion
Account-based marketing statistics
87%
87% of B2B marketers reported that their ABM initiatives outperform their other marketing investments in terms of ROI (ITSMA)
91%
91% of companies using ABM increase their average deal size, with 25% reporting an increase of +50% (SiriusDecisions)
208%
208% increase in revenue witnessed by companies using ABM (MarketingProfs)
82%
82% of B2B marketers said ABM greatly improves sales and marketing alignment (LinkedIn)
Successful Account Based Marketing Tactics
If you are targeting more number of accounts, firstly, you need to cut down the manual work. You should invest in an advanced and powerful Account Based Marketing Software and align your sales and marketing teams to develop the right content strategy for target accounts, deliver personalized experience, and engage the key decision-makers throughout the journey.

Inbound marketing when combined with Account Based Marketing programs, becomes an effective approach for B2B companies to increase qualified leads and close deals
What is an ABM Platform?
Account Based Marketing platform or ABM platform can help you run ABM campaigns successfully by providing,
Deep insights into visitor accounts
Firmographic data of the organizations
Contact information of key stakeholders
Market segment
Transaction history
Engagement history
Media habits
Buyer journey
Connections
Integrations with CRM
Omnichannel engagement
– all in one centralized platform that can help your marketing and sales team to work together and develop personalized winning strategies.
The platform can also help small and medium-sized businesses to adopt "one-to-few" (ABM Lite) and "one-to-many" (Programmatic ABM) programs by providing details on the website traffic thus making ABM platforms feasible for all types of businesses.
How to create successful content strategies for account-based marketing campaigns?
Many companies struggle with creating the right content strategies for account based marketing campaigns. Here are the quick 3 ways that provide instant results.
Moving Beyond ABM to Account-Based Engagement
Despite having many advantages, several companies find it difficult to implement account-based marketing as ABM as it is marketing-team-led. Hence, Account-Based Engagement came into action. It focuses on better cross-functional integration and creates new opportunities in targeting high-value accounts having a complex digital ecosystem.
RoundView Account-Based Marketing Platform helps B2B companies get in-depth data on their prospects and enable innovative ways of creating account-based marketing strategies and target accounts with personalized ads and improve ROI.
Section 3:
Convert Through Contextual Conversations
Conversation is the right way to close the deals. Many companies know the value of it and which is why they put conversational marketing into action.
Conversational Marketing – Definition
Conversational marketing is an entirely dialogue-driven, customer-centric approach that leverages easy-to-use customer-facing solutions like chatbots to drive customer engagement, lead generation, and conversion.
Importance of Conversational Marketing
Since conversational marketing is based on one-to-one interactions in real-time, it enables you to foster customer relationships and improve your online customer experience by communicating and personalizing interactions online.
How Chatbot Supports Conversational Marketing?
Chatbots are one of the easiest ways to put conversational marketing into action. Rather than adding a variety of lead capture forms and waiting in the darkness whether visitors will fill in or not, conversational chatbots can instantly strike a conversation with them and convert them using dialogue-driven methods. Further, with targeted messages, conversational chatbots have the ability to move the prospects down the funnel and enable quick conversion.
How to personalize your chatbot for each stage of the buyer journey?
With the right kind of rules and content mapping, you can craft a personalized journey for your buyers just with a chatbot.
Summary
Connecting all the dots
Now that you are here, we give you the big picture.
Website Conversion is a challenge for all companies and the right way to improve it is by implementing new and emerging techniques before your competitors do.
If you implement all the above-mentioned ideas into action, you should be seeing drastic results soon.
Nevertheless, it is not bad to take professional help in this matter and invest in intelligent solutions like Conversion Acceleration Platform to do all the work for you while can you focus on running your business peacefully.
Conversion Acceleration Platform helps to track website visitors and generate qualified leads from your existing website traffic. It enables you to execute account-based engagement campaigns and engage customers with personalized experiences through a conversational chatbot.

Conversion Acceleration Platform helps build conversion guaranteed buyer journey
Schedule a consultation with our expert team to learn more about the RoundView Conversion Acceleration Platform and turn your website into a revenue-generating engine.
We hope we have given the right answer to increasing your website conversion. If you find this information useful, feel free to share it with your peers.
Are you having high conversion goals for 2021?
RoundView can help. Let's meet today.