3 Top Content Strategies For B2B Account Based Marketing – See Results Immediately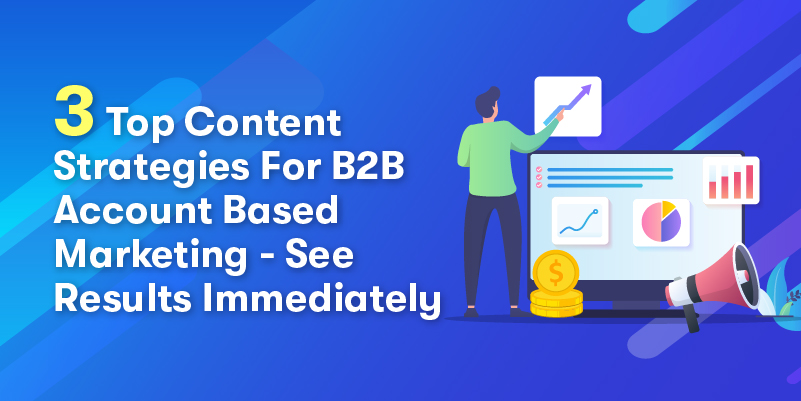 Content marketing is a vast space. According to recent research, around 7 million blog posts are published each day. Time and again, content marketing proved to generate high organic traffic and it helps to pitch your brand as a pioneer in the industry. It addresses your prospects' needs, pain-points, enriches them with knowledge as they move down the funnel, and provides the urge to buy your product.
However, without the right strategy and personalization, your content will not make an impact on your target audience. In other words, the right content strategy builds the foundation specifically for 'attract' and 'engage' stages of your buyer's journey. With 74% of B2B customers acknowledging that they conduct more than half of their research online before making an offline purchase, the buying behavior has changed dynamically and you gotta get up close and personal to win sales.
Taking advantage of Account Based Marketing (ABM) to strategize your content
Traditionally, there are two types of marketing approaches. 1. Inbound marketing and 2. Outbound marketing.
Inbound marketing: It is when your customers find you and check your offerings through the variety of content you put across like blogs, case studies, videos, whitepaper, and more.
Outbound marketing: It is when you reach out to your customers directly through email, phone, ads and it typically happens if you want to hard target them.
Account based marketing is a highly strategic approach developed in the 2000s where companies focus on bringing their marketing and sales team together to nurture key or high-revenue accounts by delivering personalized experiences at scale. In simple terms, each account is treated as its own market.
Account based marketing is very suitable for B2B businesses and nearly 80% of B2B marketers adopted it to get higher returns, and it has proven to be the best marketing approach.
By aligning your content strategy with account based marketing programs you can expand your opportunities with your buyers, build more interaction, and increase the possibilities for conversion.
Top Three Content Strategies for ABM
One-to-many ABM content strategy
If you are new to account based marketing and looking to improve your brand awareness and engagement with specific priority accounts, you can start off with one-to-many ABM or in other words, 'Programmatic ABM'. It is slightly granular than your regular inbound marketing and helps your marketing and sales team adapt account based marketing gradually.
Steps to follow in one-to-many ABM:
1. Track your website visitors using advanced website tracking tools like RoundView.
2. Get the firmographic data on the organizations that are visiting your website, learn about the pages they visited, their needs, interests, etc.
3. Align your sales and marketing teams to target such organizations with the content they might be interested in.
4. Try sending them emails, newsletters, playbooks, whitepapers, videos, webinar invites, in a personalized way.
5. Communicate with the key stakeholders or decision makers over the phone or direct mail
The key advantage with one-to-many ABM is that you can use your existing marketing creatives to communicate with the organizations and can execute it with limited resources.
One-to-few ABM content strategy
One-to-few ABM content strategy also known as 'ABM Lite' is a lightly customized approach targeted for a specific set of accounts. Such accounts will have the same needs or problems and typically have 2 to 4 key decision makers. You can strategize your content specifically for their needs and nurture them.
Steps to follow in one-to-few ABM:
1. Select the accounts that have common business challenges.
2. Develop blogs and other content related to such accounts
3. Create custom landing pages on your website with the information or solution that can help such accounts.
4. Send out customized campaigns with offers or coupons
5. Build relationship by making your sales team communicate with key decision makers
This type of ABM content strategy will work if you have a small market of targeted accounts. The time and cost involved in content creation will also not be higher as you are repurposing it to an extent.
One-to-one ABM Content Strategy
One-to-one ABM (commonly known as 'Strategic ABM') is the "real" account based marketing. Here, a dedicated marketing team will work with your sales team to target individual accounts that have the potential to bring high revenue to your company. You should plan fully customized and personalized campaigns for the accounts and engage them throughout their journey across channels.
Steps to follow in one-to-one ABM:
1. Leverage the firmographic data of the organization from easy to use lead generation software
2. Make an in depth analysis of their needs and create personalized content that addresses their challenges
3. Run ABM campaigns for key decision makers and build relationship
4. Show targeted ads in Google, Social Media, etc.
5. Offer free demo or trial
One-on-one ABM is best suited for enterprises with more number of stakeholders and large revenue as it can incur a significant cost for your resource allocation and content creation. However, if done right, it could potentially change the direction of your company as you have won a big deal.
Summary
Account Based Marketing, if done correctly with the accurate data, right content strategy, and website personalization tools, has the high potential to generate high revenue. RoundView offers an end-to-end solution for your account based marketing programs and helps transform your website into a revenue generating portal – as you always dreamed of.
To know more about Account Based Marketing and how you can improve sales by executing it, schedule a call with our ABM experts. We are more than happy to help.
Subscribe to our newsletters to get more useful and up-to-date information on B2B website conversion.