25 Ways Messaging and Chat Apps Improve Ecommerce Sales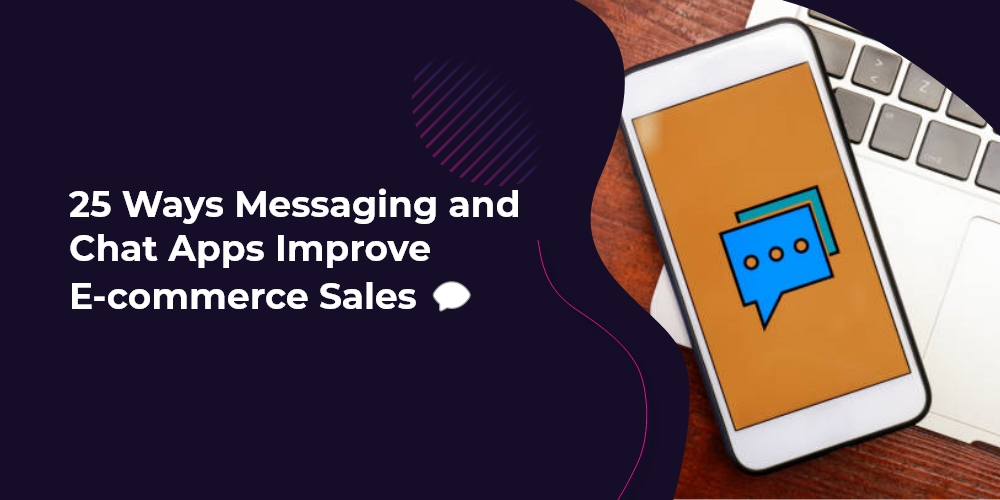 Communication plays an important role in shaping a brand's identity and perception.
The message sent by a company to its audience/consumers directly impacts its growth.
If you can reach your customers at the right time, at the right channel, with the right message, you will get their attention, interest, and make them take your desired action.
Since the eCommerce landscape is evolving at a rapid pace, you need to invest in the best channels to reach your customers faster and outrun the competition.
In this blog, we are going to talk about why you should think about using messaging and chat applications to reach your customers and the 25 ways in which you can increase your eCommerce sales.
If you want in-depth information about this topic from eCommerce experts, we recommend you to WATCH OUR WEBINAR RECORDING.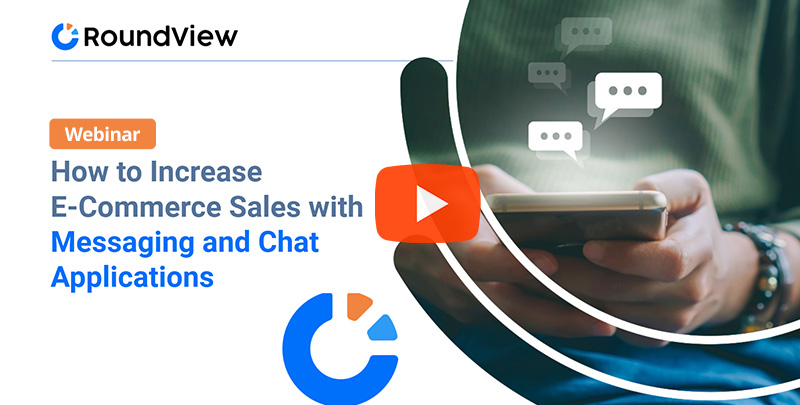 What are Messaging and Chat Applications?
Messaging and chat applications are simply a tool or a portal that helps you to reach your friends, family, colleagues, or even strangers instantly via text messaging, video call, etc.
In business, implementing such applications will help you reach your customers, potential customers, and leads instantly.
Since over 95% of internet users are using messaging and chat platforms today, implementing them on your business provides numerous opportunities to hit your bottom-line results.
Why should you invest in Messaging and Chat Applications?
Messaging and chat applications help you to establish a personal connection with your customers.
With customers receiving too many marketing and promotional emails every day, messaging and chat applications help you to cut through the noise.
Today big eCommerce companies are working hard to humanize the experience for their online customers. Messaging and chat applications help add a human touch to your business effortlessly.
A customer makes a purchase from a company not just for the brand value or for the product quality but also for,
How well the company had understood the customer's needs
How quickly they can reach you and resolve their problems
The overall long term benefits
With 61% of people saying messaging is the easiest, most convenient way to contact a business, having such applications in your eCommerce business strategy is a must. Given below are some of the hand-picked statistics to help you understand the incremental value of messaging and chat applications.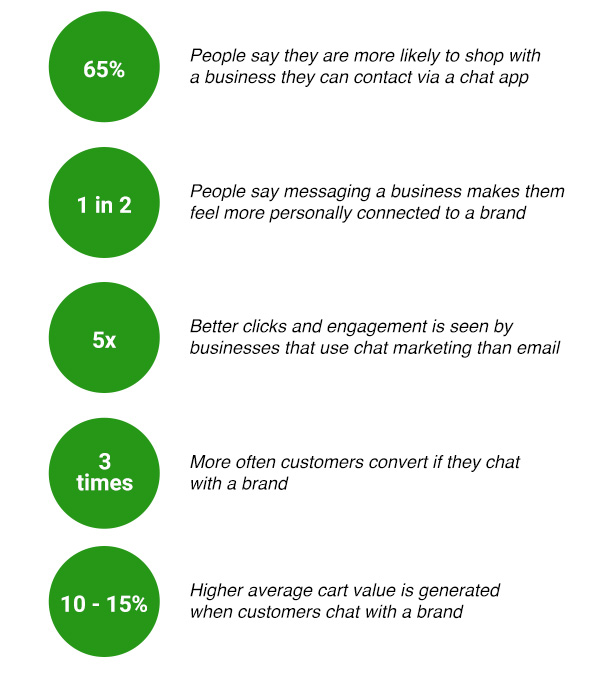 Types of Messaging and Chat Apps for E-commerce
1. Conversational Chatbot
A conversational chatbot is an AI-powered chat application deployed on eCommerce sites to provide 24/7 shopping assistance for customers.
It is primarily used for two reasons:
2. Customer support
This type of chat application helps mainly in implementing chat marketing or conversational marketing for your business.
It sends proactive messages to engage your customers better on your site. It allows you to recommend the right products and provide offers and deals to win customers fast.
Conversational chatbot like RoundView is built exclusively for improving eCommerce sales through the power of real-time, personalized conversations.
On the customer support front, conversational chatbots help to resolve common queries and enable you to route to live agents easily. It is a more effective and scalable application than other messaging and chat applications.

2. Live Chat
Live chat is a widely known and frequently used messaging and chat application on websites. It encourages human-to-human interaction where support agents of the company chat with website visitors to solve their queries or serve their needs.
Although customers love human-to-human interaction, the limitations of this type of chat application include:
Lack of 24/7 availability (Or offline during non-business hours)
Longer response time (As support agents cannot handle multiple customers simultaneously)
Higher operational cost
Lack of flexibility and scalability

3. Facebook Messenger
Over 1.3 billion people use Facebook today. Facebook Messenger enables small to enterprise-level eCommerce companies to engage with their target audience on Facebook. It helps companies to share images, links, coupons, and discount codes to influence customers' purchase decisions. Further, Facebook allows advertisers to add links to their Messenger to enable customers to instantly interact with the brand.
4. SMS
SMS marketing is another widely popular form of chat marketing as it allows companies to reach customers directly on their mobile phones. Although SMS marketing is better suited for transactional messages like shipment tracking, payment reminder, and updates, etc., nowadays, companies have started sending marketing and promotional messages too.
Studies have shown that SMS marketing coupons are 10 times more likely to be redeemed or shared.
However, the two major limitations of SMS marketing are:
Region and local government rules and regulations in sending promotional SMS
Customers send spam complaints if they don't find them relevant

5. WhatsApp
WhatsApp has nearly 1.6 million users today. It is most popular in countries like India, Brazil, the United States, Indonesia, Russia, Mexico, etc. Many companies have started using WhatsApp business accounts to communicate with their customers for updates, promotions, and information. With the inclusion of WhatsApp UPI, users now can do transactions with the business.

25 Ways Messaging and Chat Apps Improve E-commerce Sales
1. 24/7 Availability – Chat applications like conversational chatbots allow you to be available for your customers 24/7, even during non-business hours and holidays. Customers can ask questions and get answers instantly.
2. Instant Engagement – Chat applications like conversational chatbots make human-like conversations with your website visitors using Natural Language Programming and Machine Learning technologies. Since customers get to involve in a human-like interaction than a mundane robotic one, they will engage better.
3. Establish Personal Relationships – Chat and messaging applications help you to establish personal relationships with your customers by understanding their needs better. It enables you to express care and empathy and generates more trust.
4. Send Updates – With chat and messaging applications, you can send regular or timely messages on shipping, orders, new products, discounts, etc., and make customers aware of the updates and also the things that are happening in your business.
5. Share Links, Images, Videos – You can go beyond text messaging and share media files via chat applications for better engagement and interactivity from your customers.
6. Send Promotional Offers – Messaging and chat applications allow you to send timed coupons and discount offers to your customers and influence them to purchase from you than your competitors.
7. Share News/Upcoming Sale – With messaging and chat applications, you can share your company news, upcoming events, or an ongoing sale. You can also make customers sign up or subscribe for new product launches.
8. Retargeting – Messaging and chat applications are great tools for retargeting. Whether your customers are abandoning your website after viewing the products or after adding items to their cart, you can quickly retarget them with personalized messages and win lost sales back.
9. Remind Abandoned Cart Items – With chat applications like a conversational chatbot, you can trigger automated cart reminder messages when customers are exiting your site. You can send special offers or coupon codes and influence them to purchase the abandoned cart items.
10. Automate Simple Tasks – With chat applications, your customers can self-serve their common questions on products, orders, shipment, cancellation, etc. It helps to reduce the workload on your customer support teams too.
11. Personalized Product Recommendation – 75% of customers make impulse purchases if they receive personalized recommendations. By analyzing your customers' past website behaviors, interactions, and purchase history, you can send personalized recommendations to your customers via chat applications.
12. Simplify Buying Experience – Chat applications simplifies the buying process as it enables your customers to share their needs via chat rather than browsing the entire website. Conversational AI chatbots can help narrow down the right products for your customers in just a few clicks.
13. Increase Average Order Value – Upselling and cross-selling activities bring additional revenue for your business. However, you need to provide the right recommendations or demonstrate the value well. Messaging and chat applications help you do it easily. Learn the 102 ways to increase average order value here.
14.Cart and Checkout Assistant – Your customers may face a problem or have a question after adding items to their cart. Chat applications like conversational chatbots provide an opportunity to solve their concerns quickly as customers can chat with your company instantly. Get more insights on how to reduce cart abandonment with conversational chatbot here.
15. Proactive Welcome Message – Welcoming/greeting your website visitors to the site is one of the proven ways to get instant engagement from your customers. Chat applications like conversational chatbots send proactive triggered welcome messages to customers the moment they land on your website and help them find what they are looking for.
16. Collect Customer Feedback – Chat applications provide you the opportunity to collect feedback from your customers using conversations than using typical feedback forms. Customers tend to be more responsive and open if they are asked to share their opinion about your company or products in a dialogue-driven manner.
17. Build Customer Loyalty – Chat applications like conversational AI chatbots remember your customers' previous interactions, website behaviors, past purchase history, etc., and make the experience more contextual for the returning customers to increase brand loyalty.
18. Nurture Customers / Leads – Not every customer purchases from you in one go. They need to get trust. Chat applications help you to nurture your customers by sending useful links while they are browsing on your website.
19. Collect Customer Emails – Rather than typical website forms, you can use chat applications to collect customer emails. Studies have shown that customers tend to share their email ids faster and without fear via chat applications since they feel more connected with your brand.
20. Easy Account Creation Process – One of the important reasons for cart abandonment is the complex account creation process. With chat applications, you can make customers easily create an eCommerce account as it follows a dialogue-driven approach.
21. Retarget Returning Customers – Chat applications help retarget your returning customers by sending customized links or offers to them. Your customers can also easily start from where they have left instead of browsing your whole website again.
22. Improve Customer Engagement – Customers engage better if they find the experience relevant to their needs. Only through higher engagement, you can move them down the funnel faster and make them take your desired action. Messaging and chat applications help improve customer engagement in a great way as it makes them participate in a two-way conversation.
23. Enhance Customer Journey – To make your customers' journey smooth and contextual, you need to engage them meaningfully at all your digital touchpoints. Chat and messaging applications have become one of the essential touchpoints as it allows you to get more closer to your customers and serve them better.
24. Prevent Returns and Refunds – Chat applications like conversational chatbots help your customers find the right products and answer your customers' common questions and concerns. This helps to lessen your returns rate as your customers are well informed about your products and policies.
25. Measure and Optimize – To sustain in the eCommerce world, you need to optimize your digital strategies regularly. To optimize better, you need to know if your customers are getting the right experience. To learn it, you need to get their feedback, analyze their journey and website activity. Chat applications like conversational chatbots allow you to view the chat transcripts and measure the activity easily and help you to optimize the experience better.
Summary
MMarketing strategies work best if you reach customers "directly" where they are – website, mobile, social media platforms, etc., and messaging and chat applications are a great way to do so.
With targeted messages, you can accelerate them to take your desired action and grow your business.
Messaging and chat applications are no longer a nice-to-have-tool but a must-have-tool for eCommerce.
To know more about the RoundView conversational AI chatbot and how it helps boost eCommerce sales, book a 10-minute demo meeting with us.
We are sure the insights you get in our 10-minute demo will take your eCommerce business in a new direction.
PS: Like this article? Subscribe to our newsletter to receive more tips and insights like this!