15 Reasons Why A "Human Touch" Increase ECommerce Sales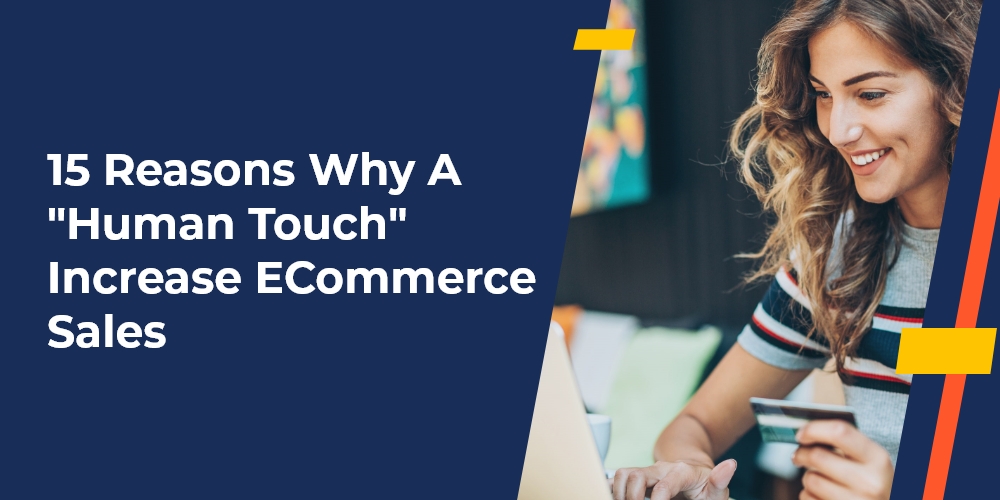 As the saying goes, a human touch is always a human touch.
No matter how wonderful your eCommerce website design, images, content are, your customers at the end of their research and before making the purchase would want to see the human side of your business.
They want to know that you are "real" and "reachable" and understand that you are there to help them whenever they need you.
To increase eCommerce sales, adding a human touch is very important.
However, in the fast-changing eCommerce world, race to win the competition, and make things easier, many eCommerce companies fail to add the human element to their website or don't add it in an adequate manner and it impacts the conversion rate.
Our webinar "How to Add a "Human Touch" and Increase ECommerce Sales" is specially conducted to discuss,
The value of adding a human touch to your eCommerce site.
How to create personal relationships with your customers using digital technologies.
How to engage customers with human-like conversations on the websites and influence their buying decisions.
How to build strong brand loyalty and increase eCommerce sales with the human touch.
15 Reasons To Add The Human Touch
1. Increases Trust – When a customer reaches an eCommerce site, they need to get the answers to the following questions easily.
a. Who are you?
b. What do you do?
c. How different you are from others?
d. How do I TRUST you?
To build "trust" you need to add the human touch.
2. Authenticity – Customers need to know if you are genuine and authentic. Adding your existing customers testimonials and photographs, and showing the behind-the-scenes activities such as your office ambiance, employees, and events will greatly build authenticity.
3. Credibility – Adding a human touch will show how credible you are. You can share your awards, recognitions, and recent achievements in your field of expertise.
4. Reachability – Customers should know you are available to help them if they have an issue or question with your products. 50% of customers expect a business to be available 24/7. Implementing a conversational chatbot or live agent can help you with this and also add a human touch to your site.
5. Interactive website – An interactive website helps your customers engage more. By making human-like conversations with customers from the moment they arrive at your site till they checkout, they will feel connected.
6. Enhance relationship – Human interaction on websites will enhance customer relationships greatly. Rather than asking them to go through all the information by themselves, if you make them talk to someone from your company instantly, you can learn their needs and serve them better.
7. Personalization – Almost 80% of customers stated that they are more likely to purchase a product or service from a brand that provides personalized experiences. Personalization got into practice because customers want brands to treat them uniquely. It is just like how an in-store salesperson would do and it is fundamentally adding a human touch to their journey.
8. Care and empathy (Emotional connection) – Customers want to be treated like real people. They want to be cared for. Their problems have to be listened with empathy. Great brands practice it and that's why they survive for decades.
9. Storytelling – Storytelling is a great way to promote your product. Since the storytelling process is a human way of communication, it will help you greatly to add a human touch to your site.
10. Overcome customers fears and objections – If you are a new company, your customers will definitely be doubtful about your products or offerings. "How do I know if it works for me?" is the common question that goes on your customers minds while they browse your website. Hence, to make them overcome their fears, barriers, and objections, you need to add human assistance to your site.
11. Collect genuine feedback – Often customers don't share their real opinions on the feedback forms. Hence, a human touch will help you get genuine feedback from your customers as customers express more if they talk to someone from your business.
12. Provide human-like conversational experience – Deploying only the support agents to resolve customer queries is not a scalable model. Furthermore, it is an expensive affair. Conversational AI chatbots can make human-like conversations with your customers and answer your customers commonly asked questions in a fraction of seconds.
13. Showcase brand culture – Human touch showcases your brand culture vastly. It helps represent your leadership skills, friendliness, working environment, etc., and generates more interest from your customers.
14. Enhance customer experience – If you offer a great experience, customers will be ready to pay more and stay loyal to your brand. Human touch can enhance customer experience greatly.
15. Increase brand loyalty – Tim Cook, Jeff Bezos, Elon Musk – why do you able to remember these names so well? Not because they are billionaires but because they show their faces and speeches to the customers now and then to assure that they are there for them and their company and products are built to put customers needs first. This is why customers stay loyal to those brands.
How To Add A Human Touch Using Digital Technologies?
Few critics say the usage of digital technologies, implementing automation and artificial intelligence are the fundamental reasons for not being able to add a human element on the websites.
However, it is not entirely true.
Digital technologies, automation, and artificial intelligence can indeed help you get closer and personal with your customers if you use them well.
Watch the webinar recording: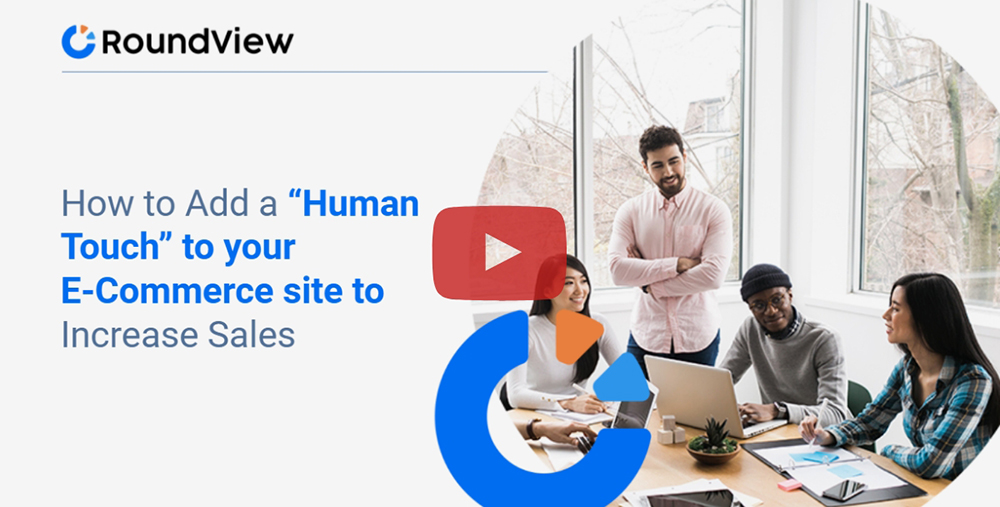 This webinar recording will be useful for eCommerce store owners, eCommerce marketers, eCommerce support function staff, eCommerce business strategists, eCommerce sales representatives, and everyone who appreciates a human touch on the websites.
We built the RoundView conversation acceleration platform with one primary goal – to increase the conversion rates of eCommerce websites. Our AI chatbots are one of the principal applications of the conversation acceleration platform that makes human-like conversations with your website visitors and influences them to convert.
Schedule a demo with us to witness its amazing capabilities.
The insights you get in our 10-minute demo can make you understand how RoundView chatbots help personalize your eCommerce experience with ease.
P.S. Like this article? Then subscribe to our newsletter to receive more insights like this!