102 Tips & Tricks To Increase ECommerce Average Order Value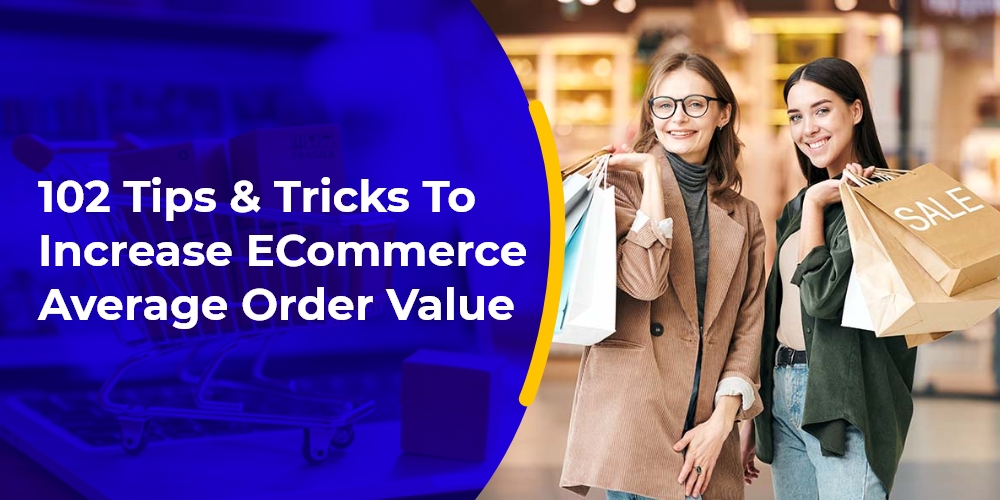 It is well known that acquiring new customers costs 5x more than retaining existing customers.
Studies have shown that the success rate of selling to your existing customers is 60-70% whereas the success rate of selling to a new customer is only 5-20%.
Hence, as much as you focus on improving your organic presence and bringing traffic to your website, you should also pay attention to selling more to your existing customers for your business's long-term growth.
In this article, we are going to expose 102 tips and tricks to increase the average order value (AOV) and help generate more revenue.
What is Average Order Value (AOV)?
The average order value is the average amount spent by a customer each time they place an order(s) with your eCommerce site or a mobile app. Average order value is one of the important metrics to calculate cash flow, product pricing, marketing spends, and business value.
What is the Formula to Calculate Average Order Value?

How to Calculate Your Average Order Value?
Let's just say for the previous month, your eCommerce store's total sales was $50,000 and you had a total of 1,000 orders. $50,000 divided by 1,000 = $50. Hence, your previous month's average order value was $50.
Why Average Order Value is Important?
Average order value gained prominence over the last few years as it allowed eCommerce companies to make more revenue from the existing traffic.
Some of the key benefits of assessing and calculating your average order value apart from generating more revenue are:
Understand Customer Behavior and Buying Patterns – Learn what type of products are selling better and the types of products customers purchase together during a particular campaign or a holiday season.
Analyze Advertising and Marketing Spends – Analyze how much you spend on marketing and advertising campaigns and how much of those actually contribute to increasing sales.
Optimize Your Pricing Strategy – Learn if your customers' purchase decisions are affected by your pricing strategy and how discounts and coupons have worked in winning sales.
Understand Your Ecommerce KPI – Discover if your eCommerce sales is impacted due to product repositioning, website experience, customer reviews, and other key performance indicators.
Increase Customer Loyalty – Learn how your customers are spending on your site, what products attract them, how they make repeat purchases, and craft loyalty programs accordingly.
Top ECommerce Average Order Value Statistics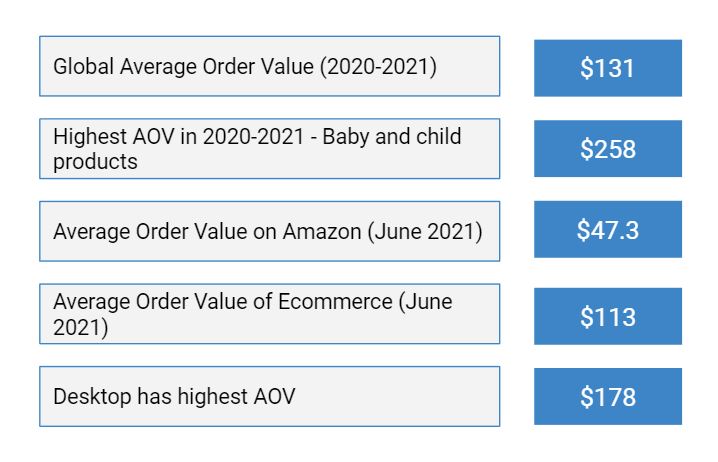 102 Tips To Increase Average Order Value
1. Start with upselling – Showcase the higher specification product and its benefits step-by-step.
2. Highlight savings – Highlight the long-term savings of the higher specification product.
3. Volume-based discounts – Offer discounts if customers purchase items in bulk numbers.
4. Sell product as kits – When products are sold as a kit, you get the opportunity to sell a maximum number of items associated with the product.
5. Discounts on kits – Provide discounts and offers when you sell products as kits.
6. Additional discounts on higher-spec products – State customers that they get additional discounts if they opt for higher-spec products.
7. Coupons and gift cards for higher-spec products – Provide exclusive coupons and gift cards for customers who buy higher-spec products.
8. Exclusivity – Showcase higher spec product as an exclusive one by giving special focus to its visual design.
9. Customer ratings – Sort products in a way that higher-spec products have better ratings and recommendations from customers.
10. Sell useful accessories – Display the accessories associated with the main product and highlight their usefulness.
11. Free shipping – Offer free shipping for customers if their cart value reaches a particular amount. This will encourage them to add more items to their cart.
12. Free coupons – Provide free coupons or discounts if the customer's cart value reaches a particular amount. Alternatively, you can provide redeemable coupons for their next purchase.
13. FOMO – Provide exclusive deals on higher-spec products and use scarcity techniques to influence them.
14. Loyalty programs – Start a loyalty program and encourage customers to participate in it by highlighting the cost savings and long-term benefits.
15. Timed deals – Offer limited-time deals to create a sense of urgency. You can also use short-term discount codes such as a 24-48 hour window for certain items.
16. Buy more. Save more – Offer "Buy More. Save More" type of deals to influence customers to make more purchases.
17. Downsell add-on items – Let's say if a customer declined your product due to high price, you can do a downsell activity which is to recommend them an alternative product with minimum features at a lower price.
18. Virtual shopping assistant – Conversational chatbots act as 24/7 virtual shopping assistants to make conversations with your website visitors in real-time and learn their needs.
19. Personalized add-on recommendations – Conversational chatbot's machine learning algorithms can recommend add-ons to new customers by analyzing what previous customers bought together.
20. Selected picks for you email – Send "Selected picks for you" type of recommendations in browse abandonment emails.
21. Cart confirmation email – Send a confirmation email once checkout is initiated and recommend additional products in the email.
22. Newsletters – Send newsletters and seasonal greetings mail with product recommendations.
Like what you are reading? Get the rest 80 tips by downloading the Ebook.
This eBook provides you with holistic 102 tips to increase your customer's average order value (AOV) with special focus given to the upcoming holiday season.
We handpicked these tips after analyzing the sites of big brands such as Amazon, Walmart, McDonald's, etc., and also doing qualitative research.
To sum up,
Implementing these tricks can increase your average order value. However, to obtain maximum revenue, we recommend you provide end-to-end shopping assistance.
AI-based technologies make the journey easier for your customers and allow you to increase the average order value with personalized recommendations.
Further, it provides deep insights into your customers' behavior and helps optimize your product pricing, marketing strategies, and overall eCommerce experience.
We built the RoundView conversation acceleration platform with one primary goal – to increase the conversion rates of the eCommerce websites. Our AI chatbots are one of the principal applications of the conversation acceleration platform.
Schedule a demo with us to see our AI chatbot's amazing capabilities.
The insights you get in our 10-minute demo can make you understand how RoundView chatbots help to increases average order value effortlessly.
P.S. Like this article? Then subscribe to our newsletter to receive more insights like this!