Which is the best customer support tool for e-commerce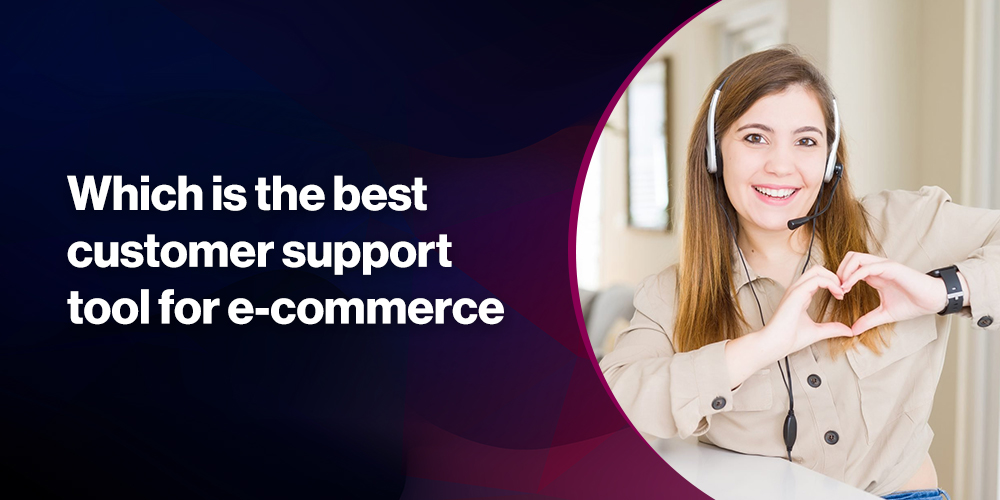 Customer service is an essential component of your company. It is critical in shaping your customer experience.
Positive customer experiences increase customer retention, brand loyalty, and, as a result, sales.
In this blog, we will take a quick look at the top customer support platforms available for e-commerce businesses and assist you in selecting the best one for your needs.
Why customer support tools are crucial
Companies are rapidly adopting customer support tools today. They have the ability to respond to your customers quickly and easily solve their problems.
With customers' growing needs, being able to respond to their questions or issues is critical to retaining them and creating a positive brand image. Customer support tools can assist you with this.
Customer support software provides the following key advantages:
Reduce wait times
Improve resolution time
Increase agent productivity
Improve CSAT score
Increase sales and conversion rates
However, not every customer support tool provides everything. Some tools have a lot of features, some have a big brand image, and some solve one or two problems perfectly.
As a result, the best way to select a customer support platform is dependent on what you require. Where do you want to concentrate your efforts in customer service? Most importantly, your budget and urgent need.
So we'll try to compile a list of the top customer tools available on the market today, analyze their strengths and weaknesses, and provide you with a realistic perspective.
In addition, we will provide you with information about an eBook that contains 40 checklist for selecting the best e-commerce customer support tool.
6 best customer support tools for e-commerce
1. RoundView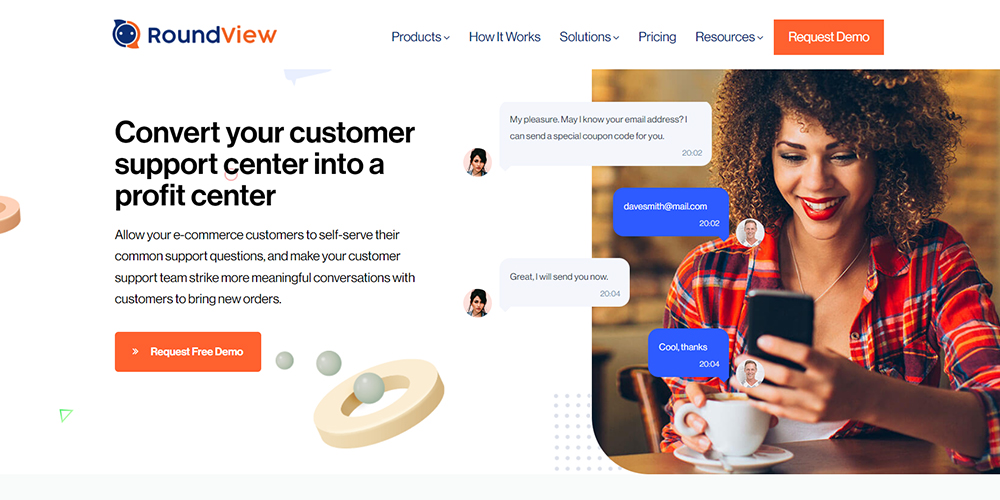 RoundView is the ideal customer support tool for small and medium-sized e-commerce businesses. The reason for this is that it was designed specifically for e-commerce. It provides a wide range of automation features that help solve nearly 60% of support questions without the need for agent intervention. Today, agent costs are consistently rising, making it difficult for businesses to hire and manage them, or to outsource them. RoundView enables small and medium-sized e-commerce businesses to offer seamless customer support without spending a lot of money. RoundView's e-commerce actions assist in automating your customers' repetitive questions, such as "Where is my order?" "How can I easily return my item?" with ease. The pro plan, which includes numerous automation features and conversion-focused triggers, costs $99 per month and includes unlimited seats and conversations. When compared to its competitors, RoundView eventually becomes the most cost-effective e-commerce customer support software.
2. Zendesk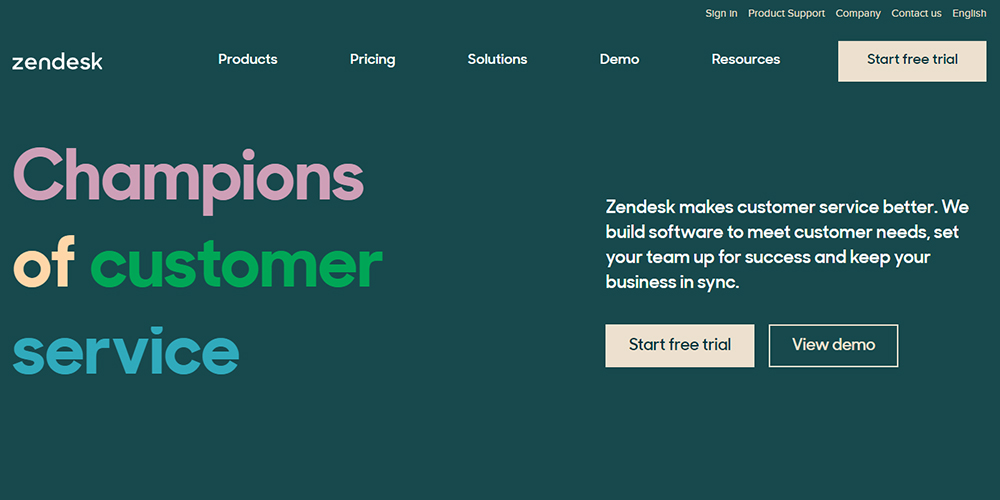 Zendesk is a popular customer support software with a 14-16% market share. It is widely used by enterprise customers and offers a variety of plans and features to meet a variety of needs. However, Zendesk was not designed specifically for e-commerce and lacks e-commerce-specific actions that aid in making customer support easier. Because the automation rules are limited, you will have to route the majority of customer questions to agents in order to provide a resolution. Furthermore, as you scale, you must better plan your investment because Zendesk charges per agent. Furthermore, the onboarding process is complicated, and many users complain about a lack of support. As a result, Zendesk is appropriate if you are an enterprise-level company with a seven-figure customer service budget. Here you can find a thorough comparison of RoundView and Zendesk.
3. Freshdesk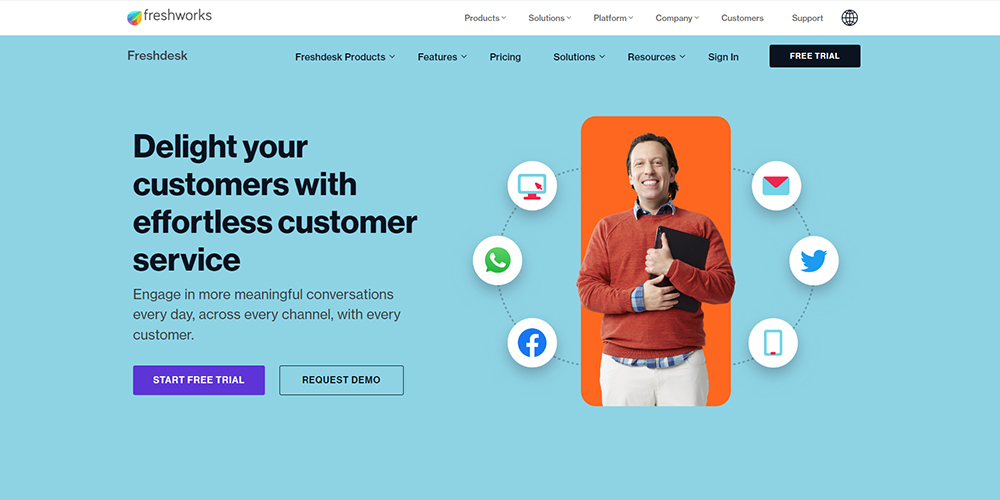 Freshdesk can easily serve small to large businesses. The tool is easy to use and provides a variety of features such as an all-in-one inbox, chatbots, WhatsApp support, and so on. Small businesses and individuals who want to use the tool to solve basic customer problems can also take advantage of a free plan. However, Freshdesk has three flaws. Freshdesk was not designed for e-commerce and has very limited automation capabilities. It only provides one seat, and businesses must pay an additional $35 per month for each additional seat. It doesn't provide combined chat history, so regardless of how frequently a customer messages, it creates a separate ticket for each inquiry. To summarize, Freshdesk is a good place to start, but you should think twice before upgrading. Here's how RoundView stacks up against Freshdesk.
4. Gorgias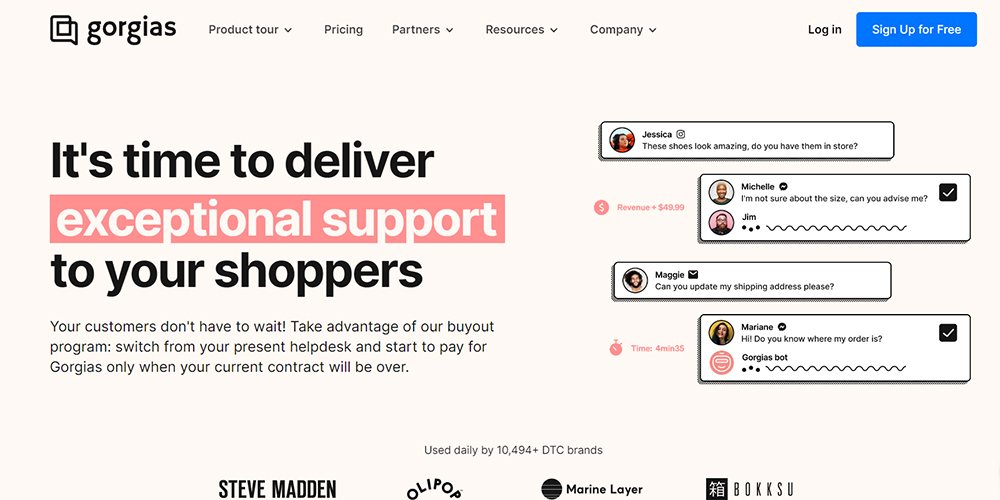 Gorgias is a popular e-commerce customer support software. Its main selling point is its deep integration with Shopify stores, which allows agents to view, edit, or modify orders without switching tabs. This saves time and allows businesses to resolve tickets more quickly. Furthermore, macros/canned responses enable agents to respond to customer questions quickly with predefined answers/rules. The only issue with Gorgias is its pricing; the feature-rich plan costs $300 per month plus $23 for additional 100 tickets. RoundView provides the same level of features as Gorgias, as well as a few conversion-focused triggers, all for $99 per month. Here's a comparison of the two.
5. Olark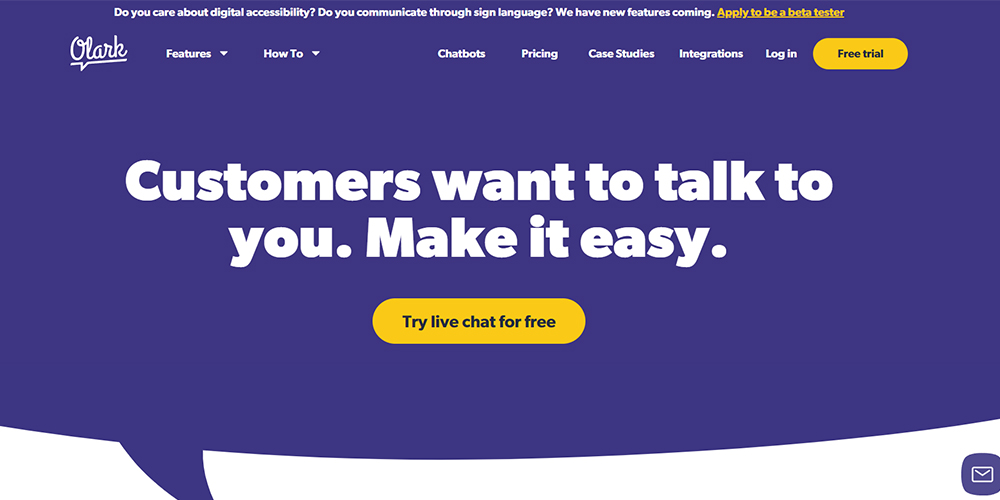 Olark is gaining traction in the e-commerce space thanks to its automation, customization, and user-friendly live chat software. It also assists customers during the pre-purchase phase by utilizing engagement triggers. The tool's analytics and reporting capabilities are extremely beneficial. Olark, on the other hand, is primarily a live chat software that lacks AI-based e-commerce actions to provide faster support. Furthermore, it does not provide AI chatbots and instead employs a rule-based one. Because Olark only provides a limited number of automation scenarios, you'll have to try routing the majority of the queries to the agents. Olark's base price of $29 per month will appeal to many businesses, but additional seats must be purchased separately. So the annual billing for ten users is $3,480. Here you can compare RoundView and Olark.
6. Richpanel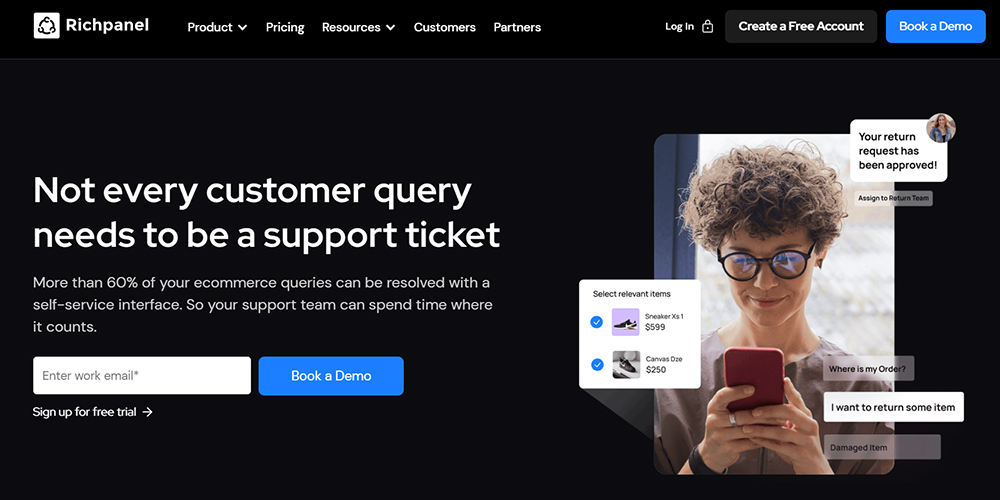 Richpanel is a self-service helpdesk solution for e-commerce businesses. It has an extremely user-friendly dashboard that allows customers to track orders, and manage returns and exchanges without having to contact anyone. It also has an automated routing feature that routes complex customer issues/tickets to agents automatically. Richpanel's only shortcoming is its exorbitant pricing, which starts at $150 per month for 1000 conversations.
Considerations for selecting a customer support tool
Choosing an apt customer support tool/software/platform for your e-commerce business can be quite difficult in today's time. There are several players available in the market and each one comes with its own advantages and disadvantages.
There are at least 40 factors to consider before selecting the best e-commerce support tool. Learn about them in this ebook.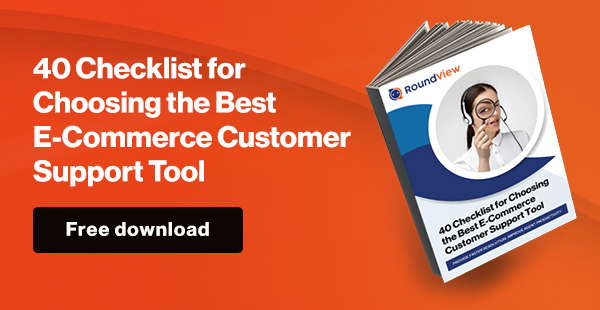 Conclusion
The features, functions, and pricing of each of the customer support tools mentioned above are particular to that tool.
To select the best software for your e-commerce business, you must first understand your needs and expectations, as well as the needs and desires of your customers.
RoundView, our customer support platform, clearly has the upper hand over all other competitors and checks all boxes in the previously mentioned ebook checklist.
Furthermore, it is designed specifically for e-commerce, includes built-in actions to provide faster support, and has chat triggers to increase conversion rates.
If you are looking for professional help in automating customer support, feel free to contact our customer support experts, we are happy to help and would like to learn from you too!
Make the smart choice and switch to RoundView right away.
From migration to implementation and beyond, we'll be there for you every step of the way.
If you want to learn more, schedule a free demo with us.