Discover why RoundView is the clear winner over Zendesk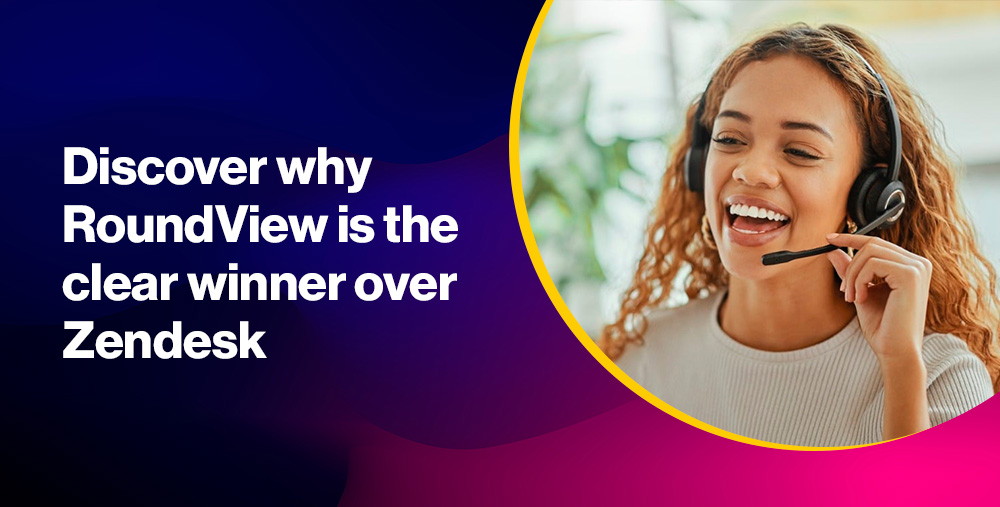 Customer service necessitates ongoing investment as your company expands and more customers arrive.
The post-sales support you provide your customers is critical for retention and brand loyalty.
According to studies, 89% of customers are more likely to make another purchase after having a positive customer service experience.
Today, large e-commerce companies are thriving due to the quick and easy post-sales support they provide to their customers.
In this blog, we will examine the need for customer self-service, the issue with customer service platforms such as Zendesk, and what makes RoundView the clear winner over Zendesk.
Let's get started.
Customer Self-Service
Consumers typically have multiple questions during the purchasing process. Giving them immediate answers to their questions will allow them to make more informed decisions.
According to studies, one of the most important things that customers expect from a website is instant answers and responses from companies.
However, slow response times have come dangerously close to ruining a good customer experience.
According to studies, the average response time for email questions is 12 hours, and 10 hours for social media.
With an average response time of 2 minutes, live chat has proven to be the fastest customer service channel.
Customers would also prefer to resolve issues with a "human" agent. However, there are several issues with it.
1. Agents cannot handle multiple customers at the same time
2. High ticket volume
3. High cost-per-interaction
4. The cost involved in hiring and training live agents
5. Managing questions from multiple customer service channels simultaneously
6. Unavailability during non-business hours
7. Low customer support ROI
Thus, the customer resolution journey is not fast as it is projected. Hence, e-commerce companies should move toward automating customer service processes where customers should be able to resolve 50% of their questions/issues through self-service.
Customer service tools like Zendesk offers a solution to automate customer service. However, it comes with several drawbacks.
The Problem With Zendesk
Zendesk is considered a market leader in customer service. However, for the last few years, they have been sharply criticized for hidden prices and poor support during onboarding.
Many of its customers have expressed frustration with product review sites like G2. Below are a few snippets.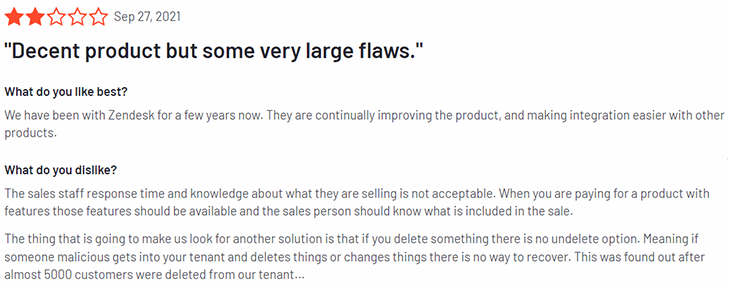 Further, it lacks important features that make the customer resolution journey easier and make the agent's work faster.
On top of it,

Zendesk is intended for all types of businesses and e-commerce requires a fresh approach.
RoundView – Go-To Support Platform For E-Commerce
RoundView was created to meet the needs of e-commerce customers. It benefits businesses in both sales and support. It engages your website visitors through proactive chat triggers and answers your customers' common questions about products, shipments, transactions, returns, exchanges, etc., – assisting them throughout their journey.
Top Reasons To Choose RoundView
E-commerce Product Finder: RoundView is specifically designed to meet the needs of e-commerce companies. If your website sells various products with varying features and specifications, the product finder feature can assist customers in selecting the right products. To avoid returns, exchanges, and customer dissatisfaction, customers will go through several steps to narrow their desired product to the right size and specifications.
Automated Resolution: RoundView provides an easy-to-use and highly responsive self-service platform to resolve common customer issues or complaints. Companies can use the platform to create workflows for exchanges, returns, payment-related inquiries, order tracking, changing shipping addresses, etc. Customers can select the issue they want to resolve and then follow the path designed by the companies to resolve the issues on their own. If the problem is complex, the platform automatically routes the query to the appropriate agent and assists in solving it quickly.
Proactive Chat Triggers To Improve Conversions: Proactive chat triggers enable businesses to monitor the behavior of website visitors and then send automated messages based on that activity. This can be an incredibly effective way of keeping customers engaged, increasing sales, and ultimately driving up customer satisfaction. For example, if a customer is browsing the homepage, you can suggest products that match their needs and any current sales that are happening. When a customer views a product page, offer available offers or deals. For customers in the checkout process, consider adding social proof notifications or reminding them to finish their transactions with discounts or exclusive deals. The right message at the right time can be a powerful incentive to make customers stay.
Unlimited Agents: Zendesk used to charge per agent and capped user interaction based on plan. RoundView allows for unlimited user interaction and provides greater value. Furthermore, unlike competitors like Gorgias, not every customer question is treated as a ticket. The system automatically assesses the severity of the problem and assigns it a ticket. Furthermore, the agents can manage issues from all customer service channels, such as phone, email, SMS, and Facebook, in a single dashboard. It saves them time and energy.
Dedicated Account Manager: One of the most common complaints about Zendesk is the lack of support in creating customer service workflows. In fact, the majority of users abandoned Zendesk due to poor customer support. It's quite ironic. A customer service tool provider who provides poor service to their clients. We at RoundView take customer service very seriously. You will be assigned a dedicated customer success manager who will be your ally from the beginning. We become a part of your company from the beginning.
Value For Money Pricing: The value that RoundView provides is one of the primary reasons why e-commerce companies are switching to it. You get a lot of features for a low price. The features assist you in increasing conversion rates as well as improving your customer service experience. It also includes built-in connectors for easily integrating with platforms such as Shopify, Magento, and BigCommerce. The migration process is also easy and swift.
Comparison Table: Zendesk vs. RoundView
Learn Why RoundView is the Best Choice for E-Commerce
Built exclusively for e-commerce businesses
Self-service for 50% of support questions
Automated resolutions for order returns, exchanges, and refund issues
Proactive chat triggers to boost conversion rates
Robust integration with e-commerce platforms like Shopify, Magento, BigCommerce, and more.
Real-time, shareable and advanced reporting, and analytics
Custom team roles and permissions
Dedicated onboarding support
$99 per month
inclusive of all features
ZENDESK SUITE PROFESSIONAL
$99
per agent/month billed annually
Wrapping up,
Zendesk is great in many ways – but we want to help our customers make informed decisions about their tech investments, which is why we put together this extensive review comparing it.
Several Zendesk users are dissatisfied with the complexity of creating workflows, hidden prices, and customer support.
Zendesk is a good product with pretty cool features. However, its customer support, complexity in creating workflows, and hidden prices were given poor ratings by several of its customers.
From building from scratch to creating the right workflows, RoundView can help you automate resolution for 50% of customer questions; increasing customer satisfaction and driving down operational costs. Plus, proactive chat triggers help increase conversion rates!
So, what are you waiting for? Sign up for a free demo or get your free trial started now! Your customer service will never be the same again!