Top 10 Steps To Account-Based Marketing Success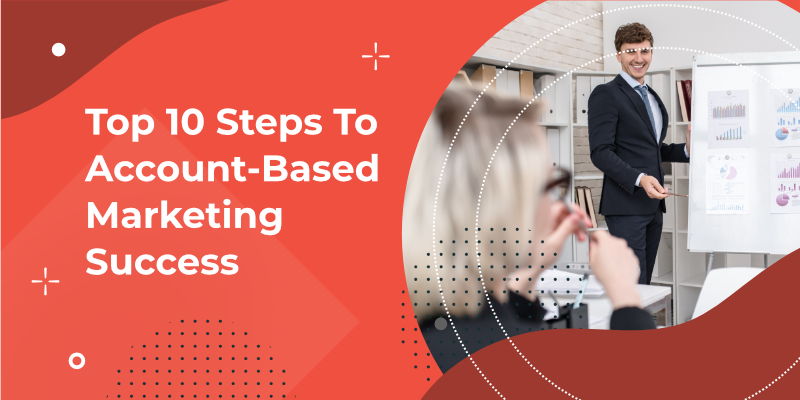 If you are getting ready to embark on an ABM strategy, it is ideal to unify sales and marketing to maintain a shared focus around a target account. Without striking a balance between the two, it is impossible to attain your marketing initiatives' desired results. Besides developing a unique selling proposition (USP) and unified call to action (CTA), Sales and Marketing teams unified for coordinated tactics and strategies will help ABM with its excellent addressing of the long B2B sales cycles.
You can run a successful ABM program with the below-mentioned steps to sales and marketing unity:
Learn who is on your team, starting right from the analyst, executive sponsor, key stakeholders from Marketing and Sales.
Simplify and target. Place the plan as a new, cooperative, and repetitive task to win and grow large accounts.
Teamup with a senior executive. A senior executive with a good understanding of the trade to develop ideas and put them into action is much needed for your ABM.
Have a focus list. Prepare your focus and target groups. Never settle and be ready to switch or change the accounts.
Set up milestones. Without measuring success and achieving quarterly goals, it is impossible to move forward and stay successful. Keep documenting right from scratch.
Understand your team's intentions and motivations. A proper meaning and inspiration will help you pull the team together in the right direction. Ensure the sales development reps, account executives, and marketers are committed to your plan of action.
Build audiences and rank them. Rank your audiences by the level of priority so that Sales and Marketing can agree on where to focus—segment the list based on where accounts are in their buyer's journey.
Address your audience intelligently. Distinguish your buyer's journey to make it a memorable one, and then you'll get a clear idea of the budget. Lead your potential customers to conversion.
Collaborate with your team. In order to taste success repeatedly, it is vital to hold ABM alignment meetings regularly. Brainstorm ideas based on the inputs and metrics.
Keep them updated. With useful insights into what is happening in the sales and marketing teams, you can crawl, walk, run with your ABM strategy.
Wrapping Up
Hopefully, with these top 10 steps, you'll imply a fair and actionable path to starting on an ABM strategy that is apt for your business. By streamlining sales, marketing, and other operations, you'll be off to a fabulous start with your ABM strategy. For more insights, we welcome you to talk to our experts…