Top ABM Trends For 2021 That Will Take The Industry By Storm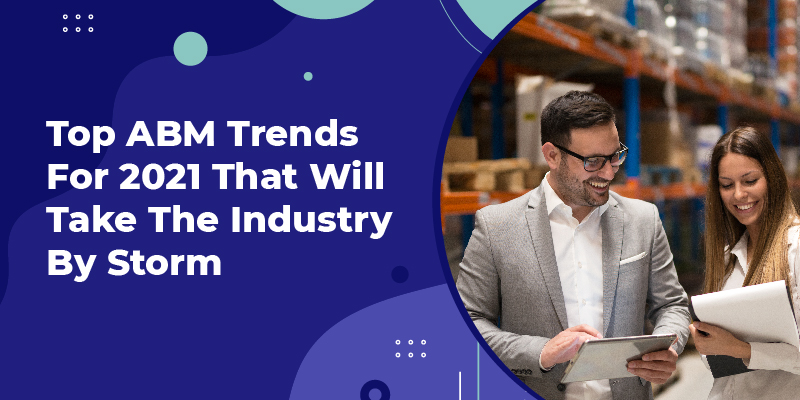 Gone are the days when businesses used to be wholly dependent on conventional marketing techniques with a spray-and-pray approach. B2B marketers today are on the lookout for a more focused and foolproof marketing approach that guarantees targeted advertising with content accuracy and high audience relevance.
With the increasing demand for hyper-personalized marketing strategies, account-based marketing is becoming more popular and inevitable in the B2B marketing space. It has a myriad of benefits like personalized engagement, organizational alignment, and retention of high-value customers.
This article sheds light on 4 crucial account-based marketing trends for 2021 that will help you stay in the know and stay ahead.
#1 Beyond lead generation
Leads are important but ABM transcends beyond generating one-time leads. In 2021, the major focus of account-based marketing efforts will shift towards fostering a very high customer retention rate through omnichannel brand reputation management and driving revenue growth by building lasting relationships with potential customers.
#2 Content intelligence
ABM is more about delivering exceptional experiences throughout the customer journey. This is possible through extensive, dynamic, and 1:1 account personalization. In 2021, content intelligence will play a crucial role in driving optimal engagement through hyper-personalized experiences that make your brand stand out and build a lasting impact.
#3 Insights-driven decisions
Right from selecting the right target accounts and optimizing the campaigns, ABM is all about data-driven insights. 2021 is expected to witness more insights playing as key ABM differentiators that will be based on various parameters and attributes. Some of these insights include account insights, insights based on engagement data and intent data, demand signals, opportunity insights, budget insights, prospect insights, business intelligence, predictive analysis, etc.
#4 Advocacy and retention campaigns
While the core of ABM remains to be retaining more high-value customers and enhancing brand reputation, 2021 will urge B2B marketers to leverage account data to identify both at-risk accounts as well as potential brand ambassadors. This enables marketers to launch advocacy campaigns to convert happy customers into their brand advocates and retain at-risk customers using retention campaigns.
These major trends are only a glimpse of what an effective and agile ABM strategy can do to a brand. Investing time, money, and effort in driving account-based engagement will be one of the right business decisions to make in 2021 because with the advent of personalization in advertising it is evident that ABM is here to stay.
RoundView is an advanced account-based engagement platform that helps you reach out to the right target accounts at the right time with the right content. The RoundView account engagement solution is thoughtfully designed to identify and attract the right buyers and engage them with omnichannel personalization. If you are looking forward to launching hyper-optimized marketing and sales campaigns across all channels, RoundView is certainly your go-to platform.
We hope these insights will help you keep pace with the industry trends. If you want to give your marketing strategy a refreshing dimension, talk to our ABM specialists. Schedule a free consultation now and get a free demo.