5 Quintessential Steps to Craft Your Thriving ABM B2B Strategy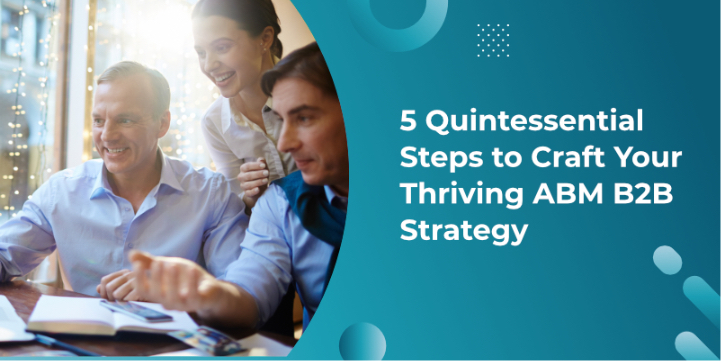 Everyone across the globe is eagerly waiting for the new year 2021 as it brings a lot of hope and opens the gates to opportunities for businesses to flourish. Having said that, it is vital to understand that there is a dire need to optimize your Account-based Marketing strategies to stay competitive in the coming year. Here are 5 quintessential steps to craft your thriving ABM B2B strategy for 2021:
Focus on your objectives before you pick your accounts
ABM need not necessarily focus on all opportunities: however, it focuses on its objectives before choosing the accounts to work on. Even though it is a challenging task, an in-depth dive discussion around specific accounts will help you zero-in on the right ones.
Accumulate intel from multiple sources
Bank on the data sources to pull out insights for both marketing and sales before making your decisions. With the required
information at hand, you are free to investigate, assimilate facts and then decide how to proceed. Select your ABM accounts based on the insights that make the most collective sense.
Go for personalized communications
Personalized marketing strategies have always proved to be a reliable approach to induce conversions. In account-based marketing, apply personalized marketing to a whole new level by generating content those decision-makers desire and need to move them through the buyer's journey.
Use marketing resources to the fullest-extent
Account-based marketing helps structure the marketing efforts and resources on your key accounts to drive the most revenue. With such a narrow focus, you can comprehend that account-based marketing initiatives optimize your most valuable resources – staff and money. Therefore, integrate your sales and marketing efforts to focus your marketing team on working instantly with sales to focus and generate content for these key accounts.
Defined return on investment
Account-based marketing strategy must be measurable, and it is no different from marketing. According to the ITS Marketing Association,85% of surveyed businesses said that account-based marketing delivers higher ROI than other marketing types. Measuring the ROI of any marketing initiative is critical and is possible with the many automation and software tools available. Through ABM, you can see the ROI for an ABM initiative and immediate improvement areas.
Final Thoughts
According to our age's marketing legends, ABM is the mantra behind many marketing successes. It is a proven way for B2B marketers to align more strategically with sales and build personalized campaigns. The points mentioned above are just eye-openers; there is a lot more to be discussed in the coming days. To set up your ABM strategy, we welcome you to discuss it with one of our experts. Get in touch now!