7 ways to increase ecommerce conversions thru customer support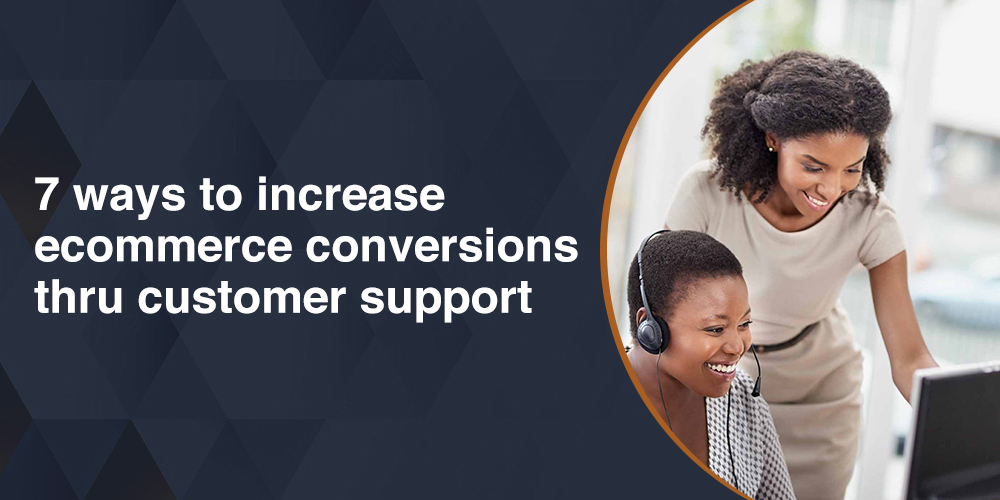 Customer support is often considered a post-sale center where your support agents answer customer questions and resolve their issues. Some people even call it a "cost center." However, it cannot be looked down on as well because poor customer service can break a business.
In fact, customer support is the top priority for leading brands like Apple, Tesla, Walmart, etc., because they know the "real" relationship between the brand and the customer begins after the sale.
Allowing customers to quickly access the support team when they are stuck, the patience and empathy your agents show while listening to their problems, and offering the fastest and more satisfying resolution will make customers love your brand more.
The love customers show for your brand will make them stick with you longer, refer it to other customers, and become your brand evangelists.
Hence, customer support provides an opportunity area to build your customer base and you make it a "sales center" if you walk the extra mile.
In this blog, we look at how to create conversion opportunities via the customer support center and grow your business further.
Let's get started.
Customer support – no longer cost center
Customer support departments generally don't bring direct revenue to the companies. In fact, many e-commerce store owners call it a cost center. All their strategies and approaches will be around cutting down the cost.
In fact, they allocate very little budget to the customer support team and the teams find it difficult to deliver faster resolution. The negative side of this would be that customers get frustrated and give poor ratings and write bad reviews. Such negative feedback will impact sales too.
Studies suggest that customers are 4x more likely to buy a product from competitors after experiencing poor service.
So it is necessary to have a good customer support center that offers faster and more satisfying customer service and yet it should be cost-effective for the companies – only then it is a win-win situation.
However, how to approach it.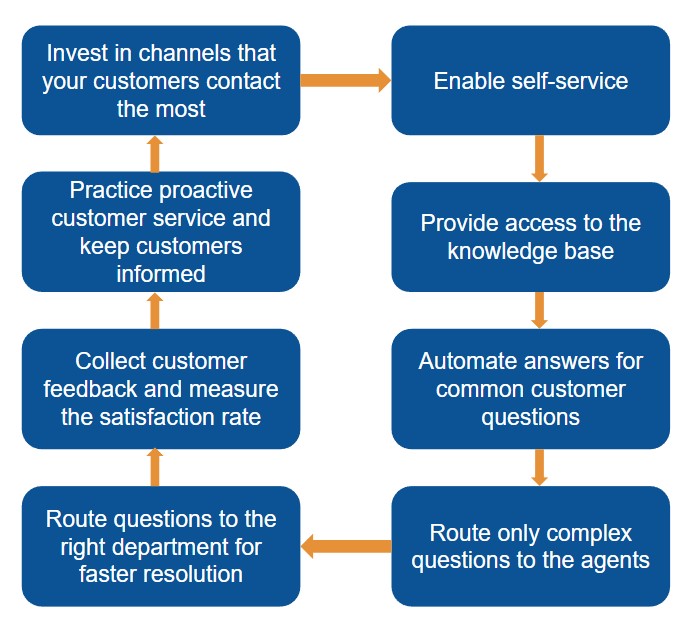 All the above-mentioned practices will help cut down costs and also improve the quality of the customer support experience.
But, if you strategize it smartly, you can improve e-commerce conversions and sales using your customer support center. Below are the ways to do it.
7 ways to increase conversions via customer support
Automation
Nearly 31.7% of major companies are already using AI to enhance their customer service experience. Using AI and automation, companies reduce manual tasks and make the teams work more efficiently. Further, when it comes to finding resolutions/answers, 69% of modern customers prefer self-service rather than speaking to agents.
Some of the frequently asked customer questions are "Where is my order?" "How to return/exchange my item? "When will I get the refund?" etc. Automation enables your customers to get answers to common questions via a self-service dashboard or a chatbot and limits them from speaking to agents unless it is a very important issue. With customer support tools like RoundView, you can automate answers for 70% of common customer questions and deliver faster customer service. It enables you to get higher customer satisfaction scores from your customers and thus improve your retention rate.
Upsell and Cross-sell
Upselling and cross-selling activities bring additional revenue to your company. Stats say that the success rate of selling to your existing customers is 60-70% whereas the success rate of selling to a new customer is only 5-20%. If you enable automation and self-service in customer service, your customers will speak to agents only if they have a more important issue. Your agents can create opportunities to make more meaningful conversations with your customers that bring new orders.
For example, your agents can emphasize the benefits of purchasing a high-value product or bulk orders, and mention the savings and long-term benefits. They can increase customers' average order value and increase your revenue. Further, they can collect feedback on the customer's expectations of the product, prices, usage, etc., and help you to enhance your brand/products/customer experience further.
The Human Touch
During the purchase process, customers will have an inner dialogue. They will raise questions to themselves such as "Will the product fulfill my needs?" "Can I trust it?" "Does it offer value for money?" "How good is the support?" etc. They seek answers to such questions while they browse your website. Sometimes, they don't find one, or the existing answers they found may not be fully convincing to them. In such cases, human interaction can build more confidence.
Human intervention at crucial purchase phases will show significantly higher conversion rates. After all, people trust people more. You can use your support agents to answer their questions and objections. They can explain the products in detail and highlight their benefits. It will build more trust and enable your customers to make faster decisions.
Fix Broken Conversations
Delivering seamless customer experiences is the top priority for leading brands. To enable it, companies should blend both AI and human touch. For example, a common customer query can be resolved by AI-based tools like a chatbot. For complex queries, you should make customers contact the right people.
By making the customer experience seamless and meaningful, you can fix the broken conversations. One of the ways is automated routing. When customers need answers to more complex problems, you can allow them to route the conversation to the right people at the right time and provide the necessary help.
Re-engage Exit-intent Customers
Another way to increase conversions through customer support is by using support agents to make meaningful interactions with customers who are about to drop off. The moment your customers hit the exit button (without making a purchase), you can trigger an exit-intent pop-up with a message that states something like "Have you found what you are looking for? If not, our team can help you." You can add a button like 'yes' and 'no' and if they hit 'yes', you can collect their contact information and make your teams connect with them later.
Support agents can follow up with your customers through email or phone and re-engage them. This method of exit-intent re-engagement will help your team members to understand more about why customers intend to exit the site. What are the issues they are facing? How can you help and influence them to purchase the products?
Generate Leads
Let's admit the fact. Not all customers who visit your site purchase from you right away. They may have the intent but they don't need the products now (because it is not a pressing need), or they are busy or waiting for the sale to happen. In such cases, collecting their email and phone numbers can help win them through nurturing.
Customer support tools like RoundView can generate leads through the highly-intuitive chat widget. You can use the support teams to contact them later and mention ongoing offers or discounts and convince them to convert.
Connect Customers With Sales
Studies show that customers when customers have questions regarding the product they often contact the customer support team. It is not done intentionally but the support team's email addresses and phone number is often looked upon in the search engines.
In such cases, you can train your support team to have sales conversations with customers and answer their questions. If they do it with the right attitude, knowledge, and professionalism, they can convert customers quickly. If not, they can politely tell customers that the sales team can provide more accurate information and get their consent to route questions to the sales team.
Conclusion
On average customer support teams improve conversion rates by just 1-2% sometimes zero. However, if you practice the above-mentioned methods, you can improve the ecommerce conversion rates by 10-15%.
More so, you can also increase the interaction with customers, learn their needs, desires, and expectations, build strong relationships, and improve brand trust and retention.
RoundView customer support tool is built to deliver a faster and more satisfying resolution to customer questions. Further, it helps to connect customers with agents at crucial points in their journey, increases conversion opportunities, and converts your customer support into a profit center.
Request a free demo with us to see it in action.
If you like this article, subscribe to our newsletter and get more tips on improving your e-commerce conversions.