16 Compelling Ways To Generate More B2B Sales Leads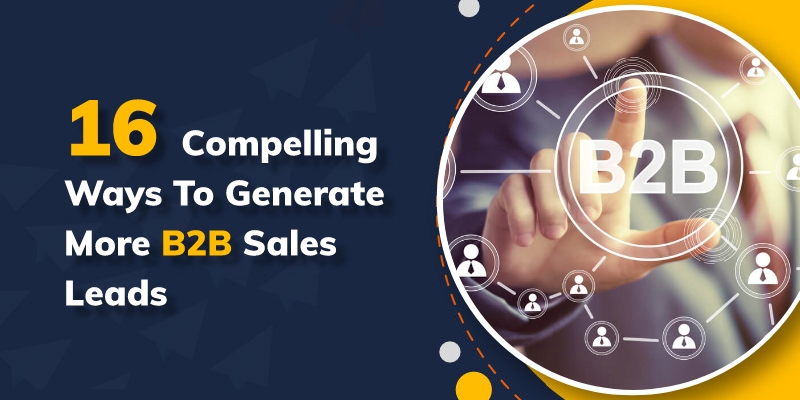 For any business to outpace, its competitors generating more high-quality B2B sales leads is a matter of paramount importance. Once the Sales Leads are ready, the executives simply need to get in touch and close the deals. However, the real challenge is generating high-quality leads that will convert.
Any business owner, marketer, or salesperson, for the matter, would agree that quality is the top criteria in B2B sales lead generation. When the quality takes a hit, the number of conversions goes for a toss. Approximately 90% of B2B marketers acknowledge that it is easy to boost the volume of leads, wherein retaining the quality alongside is the ultimate challenge.
In order to lessen the burden of conjecturing the success formula, we put together the list of best strategies followed in the industry to generate more b2b sales leads. These 16 compelling ways to generate more B2B Sales Leads are tested and proved productive enough.
Also, be sure to check out our blog 7 Essential Tips You Need to Know To Convert Online Leads Into Paying Customers to learn how to generate more B2B Sales Leads…
16 Compelling Ways To Generate More B2B Sales Leads
1) Strive for more conversations
Yup, website, blog posts, email campaigns, or videos are the source of your high-quality leads. But, to rely on them ultimately is not going to help completely. If you really strive for more conversions, then strive for more conversations with your potential clients.
For instance, if a potential client or lead is asking about something, restrain from sending an email with the link to the feature. Instead, respond to their inquiry and offer to jump a quick phone call or video call. You could walk them through the feature's functionality.
2) Create a targeted list of right-party contacts
First and foremost of all aspects of generating more Sales Leads is creating a targeted list of right-party contacts. Once the list is ready, it is easy to target through cold emails. Sometimes your efforts may bump into outdated and/or incorrect information, leads already on your CRM, poorly mapped to the target job titles, company size, location, or industry, or existing customers.
3) Shoot Cold eMails
Send out cold emails to new prospects and use the art of persuasion with personalization. Use merge tags to replace the first name or company to send emails with a wholly personalized feel to each lead. Such personalized emails win responses from recipients.
4) Effective Warm Calling
Warm calling is different from cold calling. In cold calling, you call a potential client to introduce your company, products, and offers. In Warm Calling, you call the prospect who is well aware of your business/company and heard about you in the past. Effectual warm calling can be beneficial to generate more B2B Sales Leads.
5) Nurture Your Leads Through Marketing Automation
Segment clients after collecting email addresses using marketing automation programs and targets with precise messages to win more conversions. Also, the sales team can convert marketing funnel leads to Sales Qualified Leads (SQLs).
6) Ensure Your Website Has Chat Option
The chat option ensures that you respond with bots even when you aren't able to yourself. According to a survey, 40% of customers prefer live chat for customer support questions. If you are collecting email addresses, then you can reconnect at a later date and time.
7) Be active on related social media groups
Interactions with the right Facebook and LinkedIn groups enable you to reach and engage with more leads. Probe engaging questions to start conversations and reply to comments already posted.
8) Be active on forums as well
Want to generate more B2B leads, then be active on forums. It is one of the best options to meet new leads and get to know your existing customers better. By participating and letting others know your views and answering questions, establish trust.
9) Target more online reviews
Any active online person today trusts the reviews posted by users before they make their decisions. Therefore, it is essential to have loads of good reviews and ratings. According to a survey, 82% of B2B decision-makers check online for an honest review.
10) Lead generation ads on social platforms
Pick the social media platform that may work well for you to collect email addresses. Some of the famous social media platforms offer lead generation ads, and Facebook and Twitter are to name a few. Redirect the potential clients to relevant landing pages to get the email signups.
11) Google Adwords to drive more website traffic
Any SEO person is well-versed with Google Ads, and driving more traffic with paid ads is less complicated. Depending on the industry and competition, your budget is decided. Target sales lead by studying keyword search volume and user intent.
12) Optimize landing pages
As a thumb rule, the first step to winning high-quality leads is through optimizing landing pages. The solution and flow of the landing page content revolve around the Google advertisement and the target keyword. The landing page should offer the precise answer to the potential client.
13) Generate more leads using gated content
Case studies, whitepapers, informative blogs, and enlightening newsletters can draw your client's attention and get their email addresses for you. High-quality content can generate more leads and backlinks.
14) Generate leads using webinars
Some of the popular lead generation webinar tools you should be aware of are Cisco WebEx, Webinato, ClickWebinar, and GoToWebinar. Live webinars and their recordings help answer relevant questions and build trust about your company. Try it, but plan well before you get started.
15) Generate more leads through press releases
A press release helps win attention, drive traffic to selected pages on your website, and track leads. Issuing a press release is one way of winning more high-quality leads. Some online press release sites you need to be aware of are Cision, Business Wire, Marketwired, NewsWire, and PR Newswire.
16) Use referrals to generate leads
Generate and continuously strengthen trust with your prevailing clients so you can request them for introductions. Intros can be to other companies they know.
Wrapping Up
Here are some of the essential sales lead techniques to Generate More B2B Sales Leads. If you would like to discuss elaborately with an expert, then we welcome you for a free discussion. For more information, visit our official page.