Account-based Marketing for B2B Organizations: The New Norm of Marketing!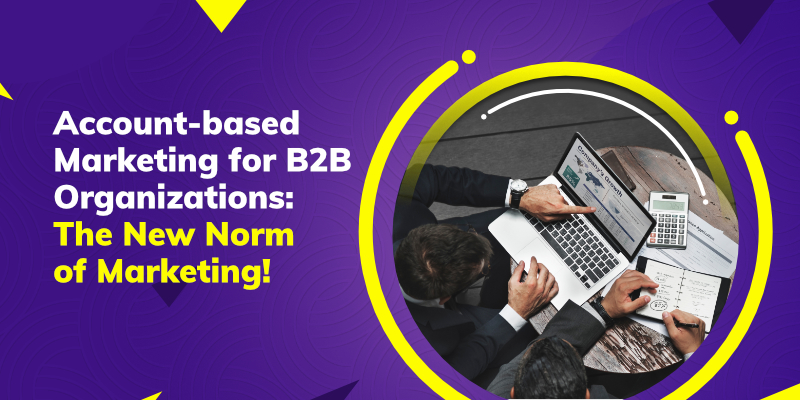 In recent times, Account-based Marketing has developed as an adequate and the best alternate B2B marketing strategy. The unanticipated COVID-19 outbreak, shift to work from home, and consumerization of B2B buying has enhanced it for good. Apparently, the unexpected shift has induced a few of the core principles of Account-based Marketing, which include Sales-Marketing overplay, working with a carefully chosen Account list, and personalization.
The B2B Marketing and Selling processes must realign themselves for the change and adapt new procedures for the variable customer demand. This approach will help in embracing the unpredictable and creating favorable results. Find a few of the effective strategies for organizations: they go about maintaining their current revenue and acquiring new logos faster to recapture growth.
Planning to expand? Start by looking for opportunities within
From the ground up. Go back to your existing customers and reestablish your bond. Such moves strengthen existing relationships and generate new ones. Always bear in mind empathy, sympathy, and purpose, so that you can be proactive in reaching out to them. High-value problems always give your clients a hard time; therefore, be assertive to identify and solve them. After strengthening the bond, develop the rapport and request them to write reviews in your favor, get references and introductions to their colleagues. With the details at hand, you could easily up-sell and cross-sell to the existing buying centers within their organisations. Sometimes you could get lucky to sell to new ones too.
Be focused on promising market
COVID 19 has had a significant impact on businesses, markets, demand, and industries. Acknowledge the new development and shift. Stick onto the stable market, avoid slouching segments and geographies, and improve focus on sectors likely to sustain long-term growth or bounce early. In simple, reposition your products and services value for this season.
Revisit your funnel
The unanticipated trend influenced by COVID-19 has brought about changes in customer needs and priorities. Therefore, it is vital to reassess your target list based on the new environment. Add new target accounts since the drop accounts may be useless. Focus on high-value opportunities and design power-up frequently by targeted marketing campaigns wherever it is slowing down for pipeline acceleration.
Be clear with your intent
Be vigilant to pick up new signs that project the need for your products and services. Keep assessing the market to comprehend changes in relevant geographies for supply and demand. Never miss the local markets. Take advantage of the social channels, get referrals from existing clients, to tunnel account intelligence. Make use of new customer data sources and predictive AI tools. This would help in obtaining the optimal customer targeting and reveal distinct propensity-to-buy shifts in real-time.
Right message to the right audience at the right time
Times have changed, and the world of B2B sales and marketing is witnessing the same. Funnels contain a variety of leads these days, and it needs attention to channelize the hand-picked ones. Therefore, always send out the right message to the right audience at the right time. On the flip side, success is only to those who make progress relevant, reflective and customized to each customer's unique situation. And remember to use a compelling blend of digital interactions.
Wrapping Up
Pandemic has impacted not only human lives but also the business world. Therefore, the B2B customer acquisition journey as we advance will fundamentally be different from what they were before 2019. The best approach is to engage with prospects and customers digitally rather than taking an Account-centric strategy. We welcome you to talk to our experts for more insights, and it would throw light on how to embark on your ABM journey.