Webinar: 2022s Must Try Digital Tools To Increase Online Sales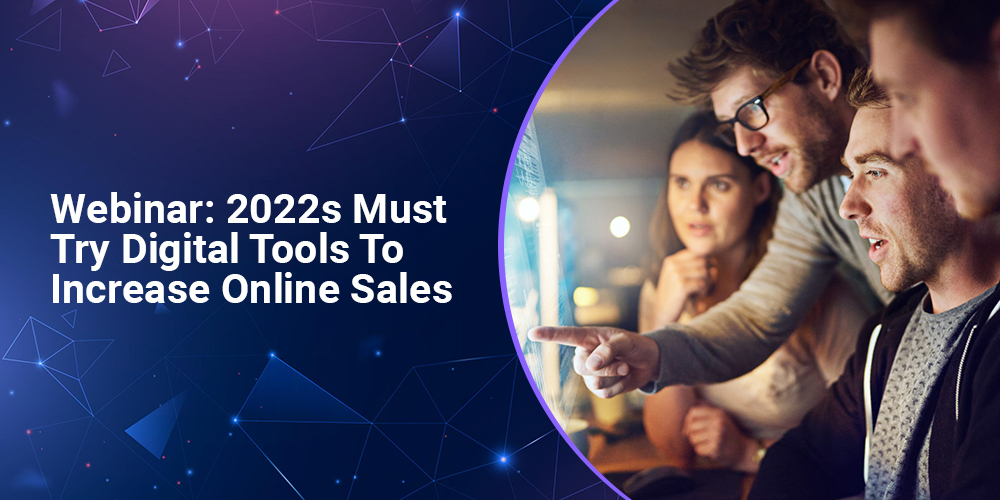 Today, digital tools have become an essential part of business marketing strategy
They work to enhance customer experience, help companies to reach their customers to their inboxes, and also work to assist customers throughout the journey and influence them to make the purchase.
This blog gives a brief overview of the topics discussed in our upcoming webinar – "2022s Must-Try Digital Tools To Increase E-Commerce Sales and Website Conversions," which goes live on January 20, 2022.
Conversion Challenges In Today's E-Commerce Landscape
Today, the eCommerce landscape has become highly scattered and competitive. The existing companies are focusing on modernizing the shopping experience for their customers. They are also striving to optimize their websites for search engines. More and more retailers are building online stores these days due to the unprecedented impact of the pandemic. Hence, the space has become highly crowded and it has become difficult to cut through the noise.
Which is why, the conversion rate of most websites is only 3-4%. Thus, there is a strong need to provide a rich user experience.
The Impact of Personalization
Personalization makes a huge impact on sales and conversions. 60% of people expect real-time personalized promotions/offers as they browse through the website. Personalization gained huge popularity over the years as it was effectively implemented by big brands such as Amazon, Netflix, Walmart, etc. Since those big brands have huge amounts of customers and followers, they tend to expect similar experiences from other online companies too. In fact, 71% of customers expressed that they are frustrated by the impersonal shopping experience offered by a few companies.
Hence, to overcome conversion challenges, companies should think about implementing some level of personalization on their websites. They should highlight the relevant product, content, and offers to their online customers while they are browsing and work towards getting their interest and engagement quickly.
2022s Must-Try Digital Tools For Improving Sales
1. AI (Artificial Intelligence)
Today, every customer's buying intent and website behavior is different. AI-based tools are built with machine learning capabilities that constantly work in collecting data on where your traffic source is from, their browsing and engagement pattern, what types of products and offers get customers interest, and aids in delivering personalized shopping experiences.
2. Conversational Chatbots
Conversational chatbots are an AI-based chat application tool deployed on websites that helps in conversational commerce and customer support. When customers enter your website, conversational chatbots can send proactive welcome messages, ask what they are looking for – find products, learn about offers, track orders, or contact customer support. To learn more about conversational chatbots, go here.
3. Voice Assistants
Today, voice assistants are being adopted at homes and offices at a rapid pace to complete daily tasks. E-commerce companies can utilize voice-enabled solutions to help customers find the right products, placing an order, tracking the shipment, etc. Although voice assistants may sound futuristic now, they are going to be an essential digital tool in the coming years.
4. SMS Marketing / Texting
SMS marketing, in other words, text marketing is another emerging business strategy to look out for this year. Some companies have claimed that they have seen nearly 40% more conversions using SMS marketing platforms than any other digital tool. Almost 90% of SMS messages are read by people within three minutes. Almost 50% of customers redeem the coupon codes shared via SMS. Hence, it is wise to adopt an SMS marketing platform/tool in your marketing processes.
5. Augmented Reality and Virtual Reality
The advantages of adopting augmented reality and virtual reality for online stores are several. It provides an immersive experience for your shoppers and allows them to feel how the products would be of use in the physical world. Augmented reality can help customers bond with the companies better and help customers make faster purchase decisions.
Summary
Digital tools are playing a huge role in transforming the eCommerce experience and improving conversion rates.
To learn more about it, we recommend you to participate in our webinar discussion.
E-Commerce sales specialists and personalization experts are joining in a fireside chat to spill beans on the right digital tools that eCommerce store owners and marketers should adopt to grow their business.
Reserve your FREE spot now!!