Top 3 Advantages On Why Pick Account-Based Ad Campaigns For Your Marketing Success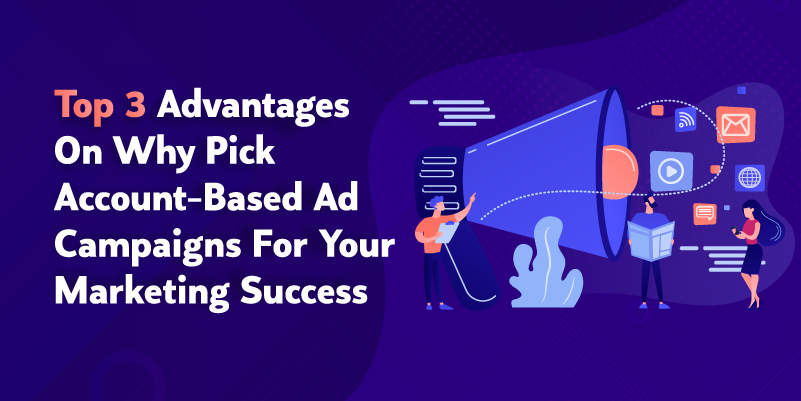 Account-Based Marketing (ABM) is inevitable to business growth and grand success. ABA, on the other hand, also known as Account-Based Advertising is a programmatic targeting tactic in ABM. It helps align marketing efforts to carefully chosen best-fit accounts with high revenue potential. Find below some of the critical pointers why ABA's transition from traditional lead-based marketing is essential to kindle your growth.
1. ABA is exceptionally focused and targeted
Account-Based Digital Display Advertising effectively creates awareness and expands your reach within the key decision-makers. By doing so, you can effortlessly focus on the target list with personalized ads. Account-Based Digital Display Advertising can create the needed impact when engaging with buyers who do not research themselves.
The right approach can help close nurturing existing relationships, building evangelism and sales opportunities faster; the success mantra is to present the right message to the right people at the right time.
Multiple techniques are adopted for executing ABA campaigns.
IP Targeting: This involves matching accounts and buyers to a specific set of IP addresses and serving digital ads to only those limited sets of IP addresses. The IP technique makes sure it is more targeted than traditional demographic-based targeting. This also means the media spend optimized and not wasted in showing ads to non-relevant people.
Cookie-based Targeting: In cookie-based marketing, the commercial database is mapped to account contacts. This approach saves a lot on your budgets as the right connection is identified from stage 1.
2. B2B Marketing Vs. B2C marketing
In the first place, B2B is not the same as B2C marketing. When a company offers long-sales cycles that cover multiple functions and stakeholders, it may miss out on the point to optimize its marketing process. Usually, the traditional approach focuses on lower value deals, high-velocity operations, single buyers, and leads, similar to B2C.
On the contrary, B2B sales often involve, on average, 12 individuals who form the buyer group. It is vital to mention they have different pain points, needs that need to be addressed effectively. Therefore, the approach is to craft marketing plans and messages to address individual pain points.
3. Orchestrating programmatic campaigns
Orchestrating and automating buyer interactions leads to the success of your marketing accounts. By unifying various campaigns and providing a place to launch and monitor the campaigns centrally, they can easily overcome them.
ABA is high on personalization – both for pre-click and post-click experience. ABA tools provide inbuilt support for programmatic content personalization. They help reduce manual effort in marketing operations by generating hundreds of pieces of content programmatically.
Conclusion
Account-Based Digital advertising solution allows marketers to generate higher clickthrough rates, web engagement. Talk to us and get a free consultation to implement ABA to acquire new logos and expand strategy with existing customers.