Use case #1: Provide the right product information, fast
Overview: B2B buyers start their research on the search engines and compare different vendors before choosing one. In this crucial phase, it is important to learn their needs/pains and help them find the right product/solution as quickly as possible.
Problem: Most sellers run their website in a conventional way with texts, images, and links, which puts a lot of effort on the buyers' end to locate the right product, features, and specifications that best solve their needs. It is a time-consuming process and often results in disengagement.
Impact: Before interacting with a website, the average B2B buyer conducts 12 different online searches. This means that you need to get in front of potential buyers and make the time they spend on your website meaningful.
Solution: RoundView conversation acceleration platform engages your B2B buyers with proactive welcome messages, asks the right questions, and helps them to quickly find the product information/content they are looking for. It further engages and nurtures them by showing relevant articles, case studies, downloadable assets in a matter of seconds, and creates a relevant, contextual experience in the research phase.
Get Free Demo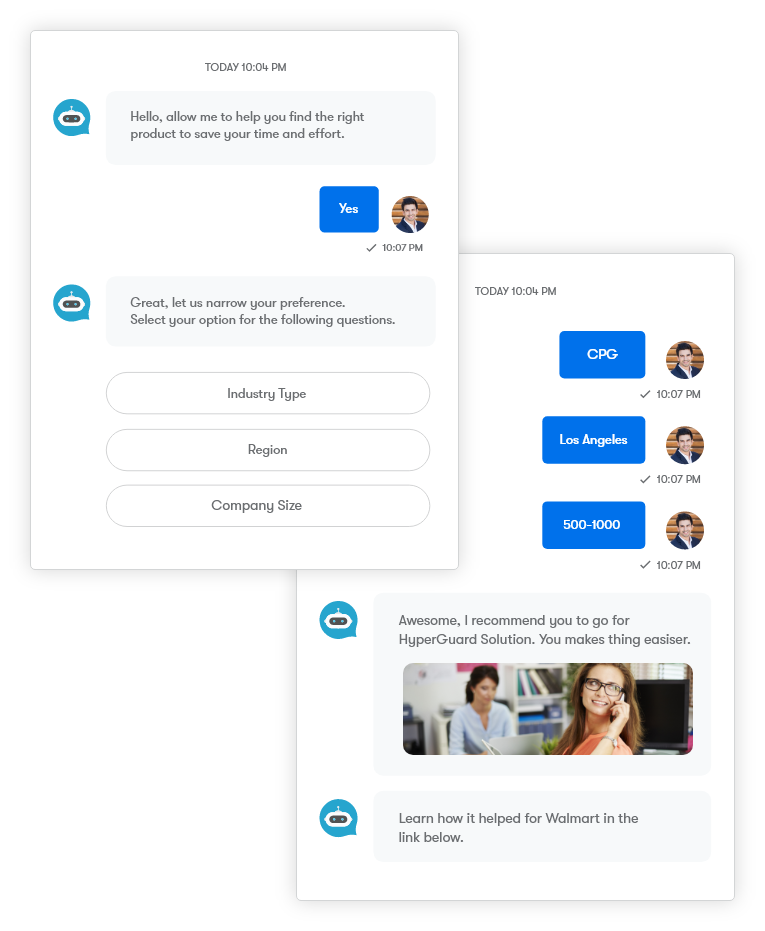 Use case #2: Personalized selling
Overview: B2B buyers expect some level of personalization when they revisit the seller's site. It makes them feel special and helps them to move through the funnel faster. RoundView delivers it better.
Problem: Most sellers fail to personalize the experience for buyers. The buyers had to repeat the same steps to find the right product that creates a frustrating experience.
Impact: Personalized recommendations increase 60% chance of conversion than generic recommendations.
Solution: Using predictive analytics and machine learning capabilities, the RoundView chatbot understands the visitors who are revisiting the site and engages them in a personalized journey based on their previous actions.
Get Free Demo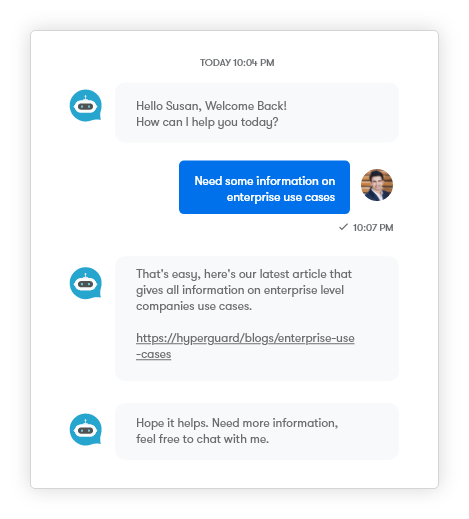 Use case #3: Efficient lead qualification process
Overview: Efficient lead qualification helps in lowering your customer acquisition costs and maximizes the conversion chances. RoundView chatbot offers multiple features to support the lead qualification process and helps generate qualified leads.
Problem: Most sellers rely on lead forms to capture the information about the leads only to discover later that they might not be ready for the purchase and needs more nurturing.
Impact: 61% of marketers rated lead generation as the most challenging task and lead quality has always been a concern for many.
Solution: RoundView conversational chatbot helps you to automate the lead generation process based on the conditions you define. Based on the user's answers, it can transfer the hottest leads to live agents instantly or allow purchase-ready leads to book meetings with the sales reps, or send unqualified leads to a specific nurture path like exporting their details to the mailing list.
Get Free Demo